POOL 22 honors the artists Ginevra Panzetti and Enrico Ticconi ("SILVER VEILED" ), Louise Coetzer and Oscar O'Ryan ("lacuna" and "Not from Here") as well as Alireza Keymanesh and Amir Pousti ("Flatland") with the PEARLS ARTIST PRIZE for their unique work in the field of screendance.
The prize is linked to a fee of 2000 € for each.
POOL 22 zeichnet die Künstler*innen Ginevra Panzetti und Enrico Ticconi ("SILVER VEILED" ), Louise Coetzer und Oscar O'Ryan ("lacuna" und "Not from Here") sowie Alireza Keymanesh and Amir Pousti ("Flatland") für ihre einzigartige künstlerische Arbeit im Bereich Screendance mit dem PEARLS ARTIST PRIZE 22 aus.
Ginevra Panzetti & Enrico Ticconi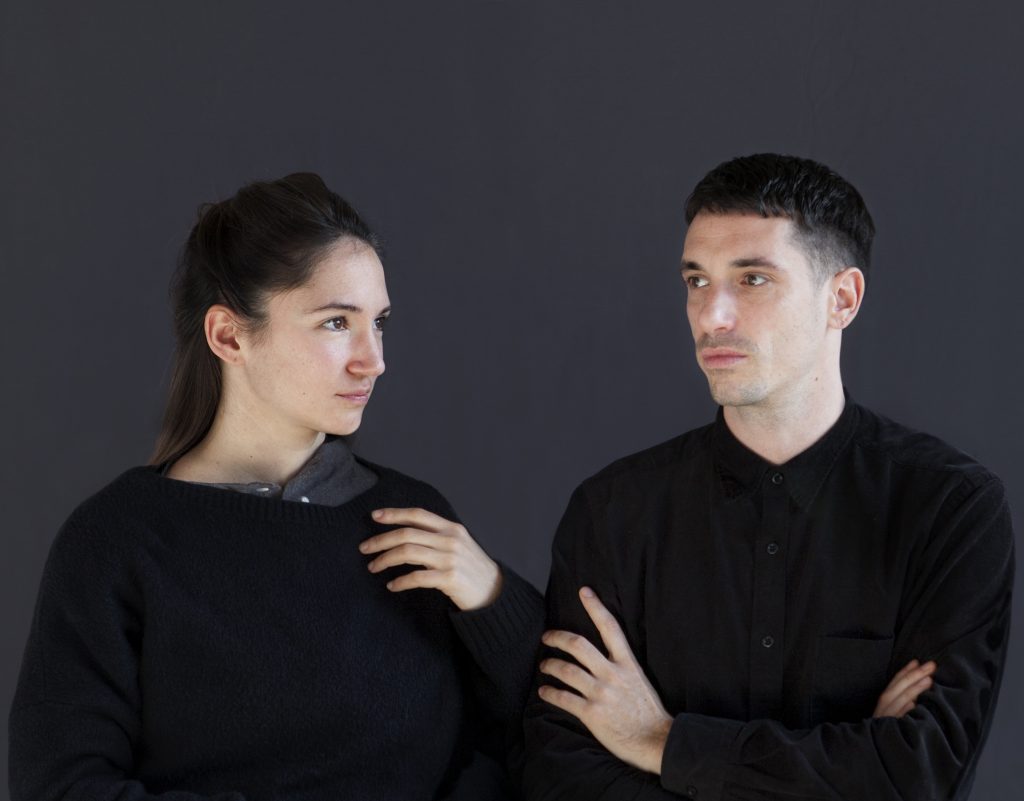 Ginevra Panzetti and Enrico Ticconi, based in Berlin and Torino, have been working as a duo since 2008. Their artistic research interlaces dance, performance and visual art. Deepening themes related to the historical union between communication, violence and power, they draw on ancient imaginaries, creating hybrid figures or images between history and contemporaneity. Both graduated from the Academy of Fine Arts in Rome and attended Stoà, School for rhythmic movement and philosophy in Cesena, led by Claudia Castellucci.
In 2010, they moved to Germany and delved into individual, but mutually complementary paths: Ginevra studied Intermedia Art at the Hochschule für Grafik und Buchkunst (HGB) in Leipzig and Enrico Dance, Context, Choreography at the Inter-University Center for Dance (HZT) in Berlin.
In 2019, they won the 13th Arte Laguna Prize for the site-specific performance JARDIN / ARSENALE, the first edition of Premio Hermès Danza Triennale Milano with which they realized the last work AeReA, the Danza&Danza prize as emerging choreographers and were nominated "Promising Talent of the Year" by the Jahrbuch Tanz – Zeitschrift für Ballet Tanz und Performance.
With the work HARLEKING they have been selected by the european platform AEROWAVES Twenty 19, the New Italian Dance (NID) Platform and by Tanzplatform Deutschland 2020.
Louise Coetzer & Oscar O'Ryan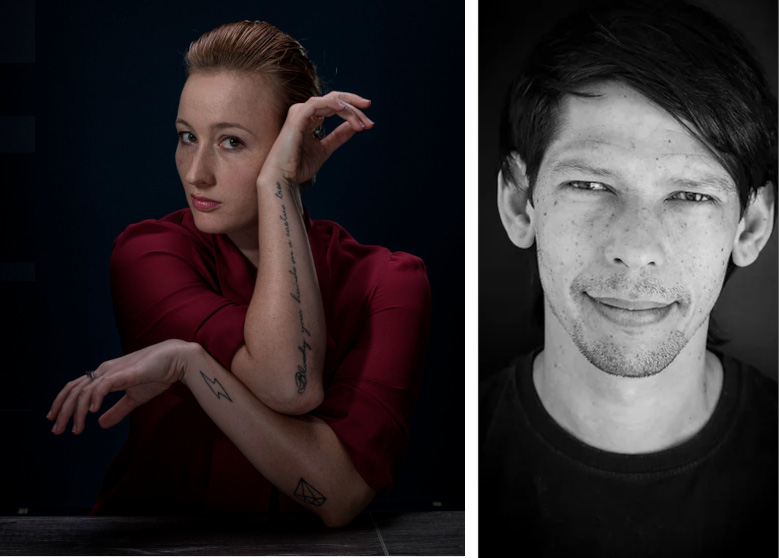 Louise Coetzer, dancer and choreographer, and Oscar O'Ryan, photographer and filmmaker, bring together expertise from their respective fields to form a dynamic partnership. In 2010 they founded DARKROOM CONTEMPORARY DANCE THEATRE – a project based company formed as vehicle to reimagine dance, through its innovative approach to staging and presenting contemporary works. Projects spearheaded by the founders provide platforms and create opportunities for skills development and exchange among all artists involved. A focus on the use of new technology and digital media frame their artistic approach. Similarly does interdisciplinary exploration, with project collaborators including visual artists, musicians, designers, filmmakers and digital artists.
LOUISE COETZER (b 1980, South Africa) is a multidisciplinary dance artist working within the genres of site-specific performance, digital & live art, choreography for the stage, and dance film. Her works are experiential, experimental, and often have interdisciplinary approaches at their core.
www.louisecoetzer.com
https://www.instagram.com/louisecoetzer/
OSCAR O'RYAN (b 1978, South Africa) is a photographer and videographer specializing in capturing movement and dance as well as reportage style visual stories. He implements photo and video projects geared towards raising the profile of dance as art form. 
Alireza Keymanesh & Amir Pousti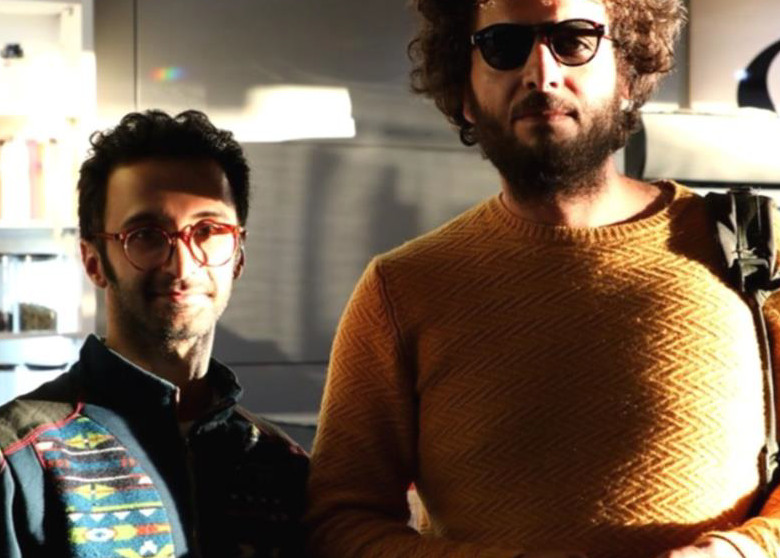 ALIREZA KEYMANESH (b. 1985, Iran) is an experimental artist, adventuring in the world of art as a filmmaker, actor, choreographer, lecturer as well as contemporary dance and acting teacher focused on body-mind techniques. He earned a BA in acting from Tehran University of Art in 2009 likewise carried out a dance theater research project, entitled "The Society's Influence on the Human Body" in the context of partaking in dance, choreography, and DAI (Dutch Art Institute) courses at ArtEZ University in the Netherlands in 2013.

Alireza had been a member of "84 Theater Group" since 2007 to 2017. Furthermore, he is one of the cofounders of "33Projects", an underground multidisciplinary art company in Tehran besides being the co-founder of "33School", an underground dance school, which had been located in Tehran, and currently, its goals are improving in the virtual world.

Additionally, he has been introducing and developing the Ideokinesis method in Iran by holding numerous workshops, lectures as well as translating the Ideokinesis book written by André Bernard to the Persian language while studying and deepening his physio-philosophical knowledge on the same technique with Eva Karczag since 2013.

Alireza, as a filmmaker, has been succeeded to be given several international awards from various festivals around the world. On the other hand, he has been known and awarded twice as one of the Best Actors of the year in the Annual Iranian Theater Ceremony in addition to receiving the International Jury's Laudatory Acting Prize at the 35th Fajr International Theater Festival.
As an actor, he has appeared in distinct styles of theater such as: classical and realistic scripts, absurd theater, comedy, puppet theater, modern and contemporary play, physical and dance-theater as well as acting in cinema and movies.
Currently, Alireza's main ambition is to take the most advantage of the knowledge and skills that he earned during the years of hardworking in theater, acting, dancing, choreographing, writing, and managing so as to use them in the world of filmmaking and cinema.
AMIR POUSTI is a filmmaker, cameraman, photographer, actor and one of the cofounders of 33prjects. He drops out from the Rasht University in the field of Industrial design in 2006. In 2017 he won some awards from "European Film Festival Mainstream & Underground" in Moscow, "Calcutta Cult Film Festival" in India, and "Feel the Reel Festival" in England, Brussels Independent Film Festival (Chocolat award) 2018, Sydney World Film Festival 2018, for making an experimental short dance movie called "Flatland" co-directed with "Alireza Keymanesh". Some of his art works are: Live shooting in theater play "In Praise of theater" directed by Nima Dehghani, Playing the main role of the movie "Ecosystem" directed by Ali Ahmadzadeh in 2019, filming the long movie called "Conversations" directed by Reza Razm. One of the directors of the performance art called "Orifice" in 2016 and some photography collections on children's prison and dance which has not been released yet. He has been working on a documentary movie about the music of the north of Khorasan city in Iran since 2014. His new short movie is called "Transformation".