with Films by
YOSHIKO CHUMA AND JACOB BURCKHARDT
PHILL NIBLOCK AND ARTHUR RUSSELL
LAURIE ANDERSON (tbc)
artist talk with Yoshiko Chuma
moderated by Peter Pleyer
15 September 2023
7.30 pm | 19.30 Uhr
Zionskirche Berlin
Donation // Spendenempfehlung :
10 €
---
– EN –
"Suono e Immagine" (Sound and image) – this title of a side programme of the 37th Venice Film Festival (1980) is the starting point for this year's edition of POOL SHINE – NEW YORK TRACES. Four works at the intersection of movement, music and film by the New York avantgardes enter in dialogue with the architecture of the Zionskirche Berlin and open up experiential sensuous spaces. The choreographer Yoshiko Chuma gets together with the composer Alvin Curran and Christian Marclay, the filmmaker and musician Phill Niblock enters the depths of a piece by the cellist and singer Arthur Russell through images, and Laurie Anderson combines in the video of O Superman speech, performance art and electronical music.
The film the School of Hard Knocks by Jacob Burckhardt and Yoshiko Chuma, whose company later received the same name, has been digitized particularly for this year's SHINE edition. Burckhardt tells the origin story of this work commissioned by the Venice Film Festival below.
– DE –
"Suono e Immagine" (Sound und Bild) – der Titel eines Rahmenformats der 37. Filmfestspiele von Venedig (1980) wird zum Ausgangspunkt der diesjährigen Ausgabe von POOL SHINE – NEW YORK TRACES. Vier Arbeiten an der Schnittstelle von Bewegung, Musik und Film der New Yorker Avantgarde öffnen im Dialog mit der Architektur der Zionskirche Berlin sinnliche Erfahrungsräume. Die Choreografin Yoshiko Chuma trifft auf die Komponisten Alvin Curran und Christian Marclay, der Filmemacher und Musiker Phill Niblock fasst ein Stück des Cellisten und Sängers Arthur Russell in Bilder und Laurie Anderson vereint in dem Video zu O Superman Sprache, Performancekunst und elektronische Musik.
Der Film The School of Hard Knocks von Jacob Burckhardt und Yoshiko Chuma, deren Company später den gleichen Namen tragen wird, wurde in Vorbereitung für SHINE digitalisiert. Burckhardt berichtet unten über die Entstehungsgeschichte der Auftragsarbeit für die Filmfestspiele Venedig.
---
PROGRAMME
The School of Hard Knocks
Yoshiko Chuma, Jacob Burckhardt | USA 1980 | 00:31:26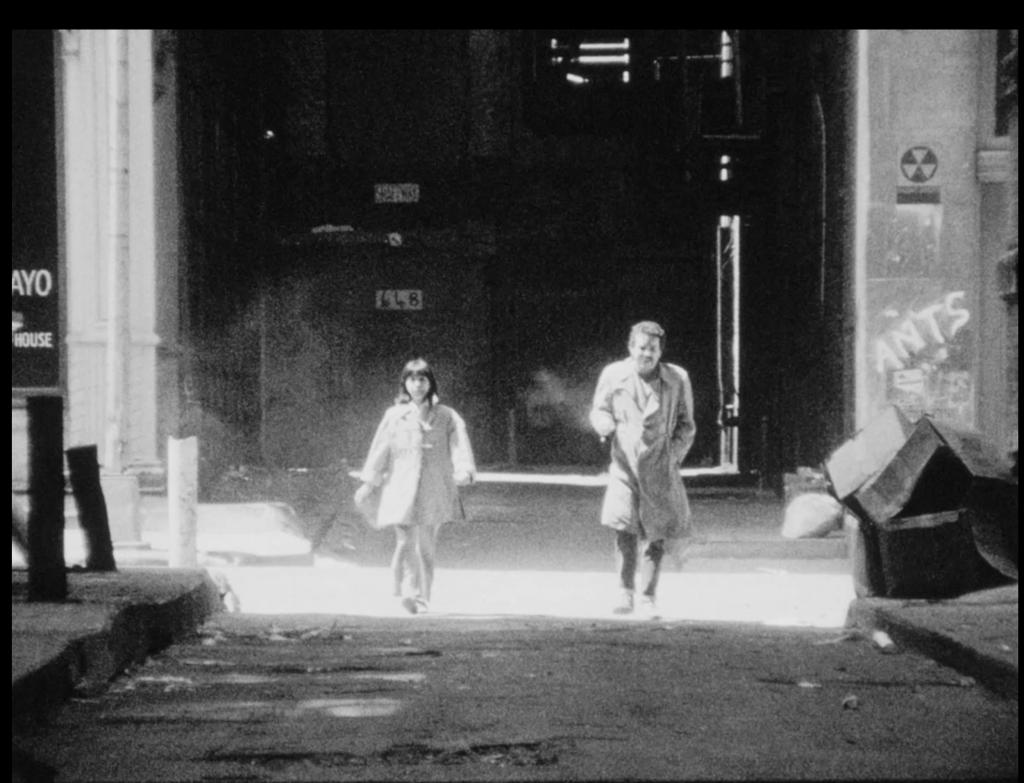 The film travels through the urban canyons, parking decks and rooftops of New York, where choreographer Yoshiko Chuma and actor John Nesci explore the textures and architecture of the city through engagement with movement and objects, leading to the natural landscape of Maine. Jacob Burckhardt's camera follows the movements of leaves, water, light and a raft that is floating in the fog.
Der Film führt aus den Häuserschluchten, von den Parkdecks und Dächern New Yorks, wo die Choreografin Yoshiko Chuma und der Schauspieler John Nesci die Texturen und Architektur der Stadt mittels Bewegung und Objekten erforschen, in die natürliche Landschaft von Maine. Die Kamera Jacob Burckhardts folgt den Bewegungen von Blättern, Wasser, Licht und einem Floß, das im Nebel treibt.
Film by Yoshiko Chuma and Jacob Burckhardt, with John Nesci.
Sound: Alvin Curran
Five Car Pile-Up
Yoshiko Chuma | 1983 | USA | 00:03:48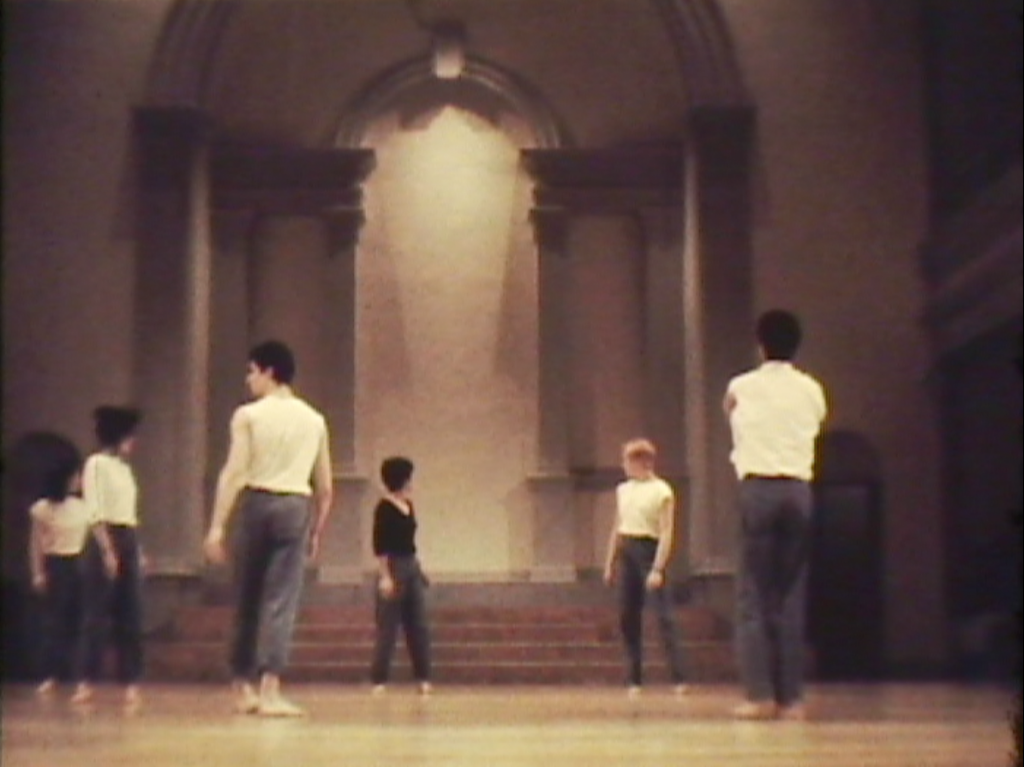 Five Car Pile-Up was originally performed in 1983 at St. Mark's Church, NY, including 100 performers. The film condenses the performance and creates a new cinematic choreography by the use of slow-motion, different angles, montage and a soundscape, that not least because of the sounds, opens up spaces far beyond of what we see.
Five Car Pile-Up wurde ursprünglich 1983 in der St. Mark's Church, NY, mit 100 Perfomer*innen aufgeführt. Der Film verdichtet die Performance und lässt mittels des Gebrauchs verschiedener Perspektiven, der Montage und des Einsatzes von Zeitlupe eine neue, filmische Choreografie entstehen, die ­– nicht zuletzt aufgrund des Sounds –, Räume jenseits des Sichtbaren öffnet.
Direction: Yoshiko Chuma
Cinematography: Rudy Burckhardt
Performance: Kaja Gam, Steven Petronio, Lucy Hemmindinger, Nelson Zayas, Yoshiko Chuma, Irene Hultman, Donald Felming, Susan Milano, Brian Moran
Sound: Christan Marclay
Terrace Of Unintelligibility
Phill Niblock, Arthur Russell | USA 1985 | 00:20:17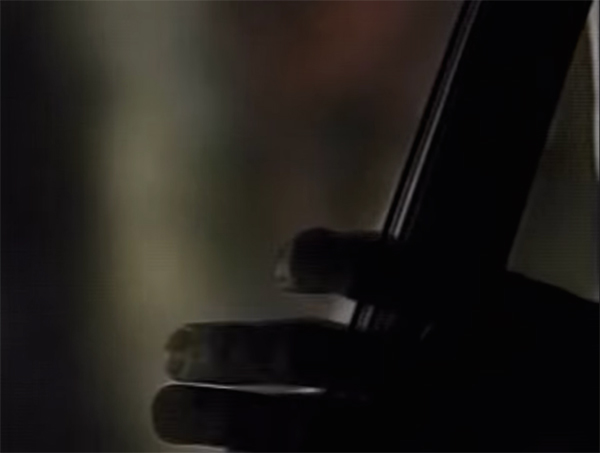 Intimate close-ups of hands, face, and a cello blur within shadows, soft focus, and gentle light, offering the audience a visual immersion into the music and voice of Arthur Russell, as well as an unintelligibility through visual means.
Nahaufnahmen von Händen, Gesicht und Cello verschwimmen in Schatten, Unschärfen und warmem Licht und lassen das Publikum Musik und Stimme von Arthur Russell sowie das Undurchdringbare, das der Titel verspricht, auch visuell erfahren.
Director, Camera, Editor, Producer: Phill Niblock
Composer, Lighting Design: Arthur Russell
Lights: Steven Hall Lighting
Sound Recording: Steve Cellum
Production Assistant: Stella Varveris
Technical Assistance from: Staten Island Community Television with support from the New York Foundation of the Arts, The New York State Council on the Arts, and the National Endowment of the Arts.

Recorded at Experimental Intermedia Foundation September 22, and October 27, 1985. Music partially contained on the Arthur Russell album "WORLD OF ECHO", Audika Records.
O Superman
Laurie Anderson, Josh White | USA 1981 | 00:08:27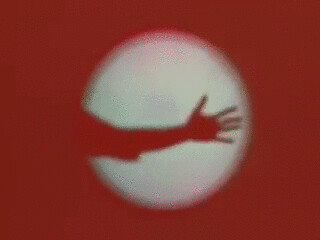 O Superman blends spoken word, electronic music, and performance art to explore themes of technology, communication, and the human experience in a rapidly changing world.
Im Musikvideo zu O Superman von Laurie Anderson verbinden sich gesprochenes Wort, elektronische Musik und Performancekunst. Das Lied greift Technologie und Kommunikation zu Beginn der 80er Jahre auf, hinterfragt damit verbundende Machtstrukturen und die menschlichen Erfahrung in einer sich rasch wandelnden Welt.
Director: Josh White
Art Director: Perry Hoberman
Concept: Laurie Anderson
Music Director: Roma Baran
Sign Language Coach: Jane Comfort
---
JACOB BURCKHARDT ON
THE SCHOOL OF HARD KNOCKS
Adventure in Moving


In the spring of 1980 Yoshiko and I heard from Alvin Curran that the three of us had been invited by the Biennale di Venezia Settore Cinema (Venice Film Festival) to present a collaboration of Music (Alvin), dance (Yoshiko) and film (me) in a sidebar called Suono e Immagine (Sound and Image).

Especially at that time, when there were fewer film festivals in the world, Venice was one of the premiere ones, along with Berlin and Cannes. They showed relatively mainstream but not all Hollywood movies. I remember seeing Gloria by John Cassavettes, part of Berlin Alexanderplatz by Rainer Werner Fassbinder, and The Lion Has Seven Heads by Glauber-Rocha. That year they decided to add the Sound and Image sidebar, which included an exhibit of odd sound making objects and other collaborations like Suzan Pitt with Richard Teitelbaum and John Cage with David Tudor.

One of the first things we needed was a title. After a lot of this and that we came up with "The School of Hard Knocks". It is an old American expression, which I found on a Pearl Bailey album cover called "Songs of the Bad Old Days"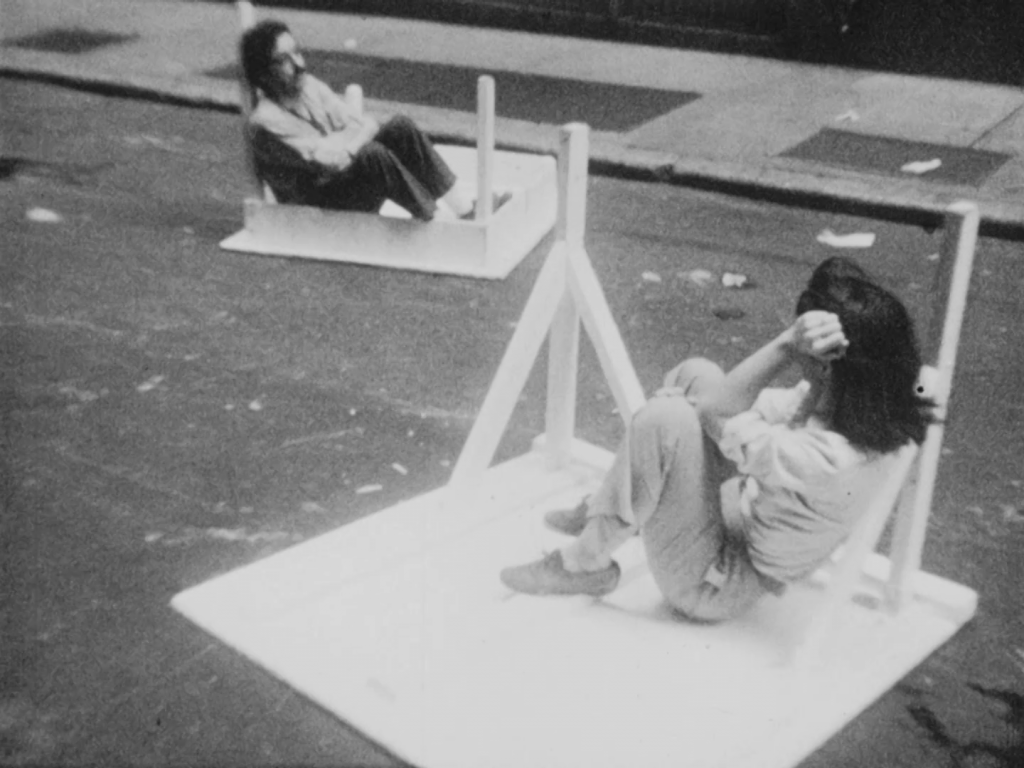 We shot the movie in the summer on black and white reversal film. The first part was in New York City, with Yoshiko and John Nesci and three tables with purposely uneven legs. John was a big man with a deep voice, an actor from California who had worked with Sam Shepard and Jim Neu. He smoked a couple of packs of Camels a day. We shot in the financial district and around 21st street and sixth Avenue, with Yoshiko and John doing things around the tables, sometimes shot from way above, sometimes in the middle of the street or avenue. One striking thing is that there are almost no cars, parked or driving in the streets on the summer weekends of 1980. I had a motor drive for my Bolex camera so we were able to do some very long shots, including one where Yoshiko and John climb up a ten-story fire escape (when they came back down I said, "Very good rehearsal. Now I'll load the camera and we can do a take"). There were also a couple of rolls of our friends, one by one, walking in the streets, called the walking section, but they may be lost.

Later in the summer Alvin flew over from Rome with his recording equipment and we drove up to Maine in a Uhaul truck. It had the slogan "Adventure in Moving" written on it, so we added that to the title of the show. Alvin recorded some beautiful loon calls, and at another time we closed him in the box of the truck with his recording equipment and some pots and pans as I drove down a bumpy dirt road. The images in Maine were very long and attenuated, for example a tilted table on a raft floating slowly in the still pond, with the fog slowly clearing and revealing the woods around it.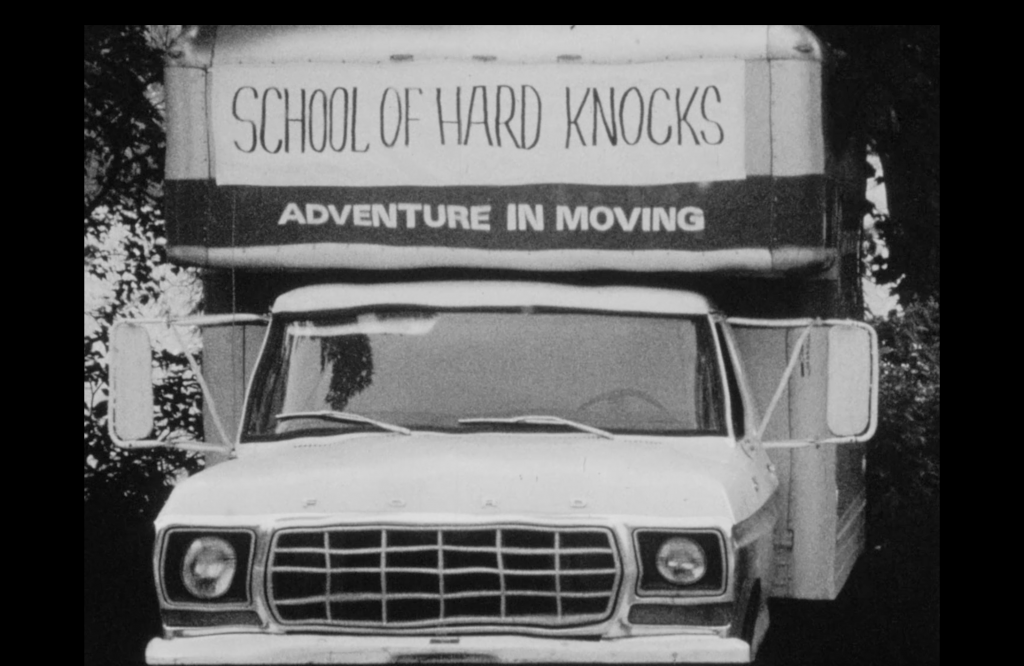 In early September we went to Venice and stayed at the Grand Hotel des Bains on the Lido (featured in both versions of Death in Venice). We had to struggle to find time to rehearse, as that is not a usual requirement at a film festival. We had a cheerful crew, but when we asked to take a New York style 30 minute lunch they thought we were nuts. So, for that matter did the waiters at the hotel. After a two hour break and a couple of liters of wine each, the guys were even more cheerful. When I complained about the mistakes they were making in rehearsal they said, "don't worry" and indeed, during the performance there weren't any.

That performance is lost to history. Yoshiko danced and Alvin made live music. I think there were three projectors, one for the main movie and the other for the walking sections. Nobody remembers what happened, or even if there was anyone there to see it. Later we did another version of the piece in New York with Rosemary Moore and John Nesci, with a set made up of fiberglass insulation and garbage bag plastic by Geoff Davis.

All that is left is a 31 minute edit of the material we shot that summer, with music by Alvin Curran based on the sounds he used.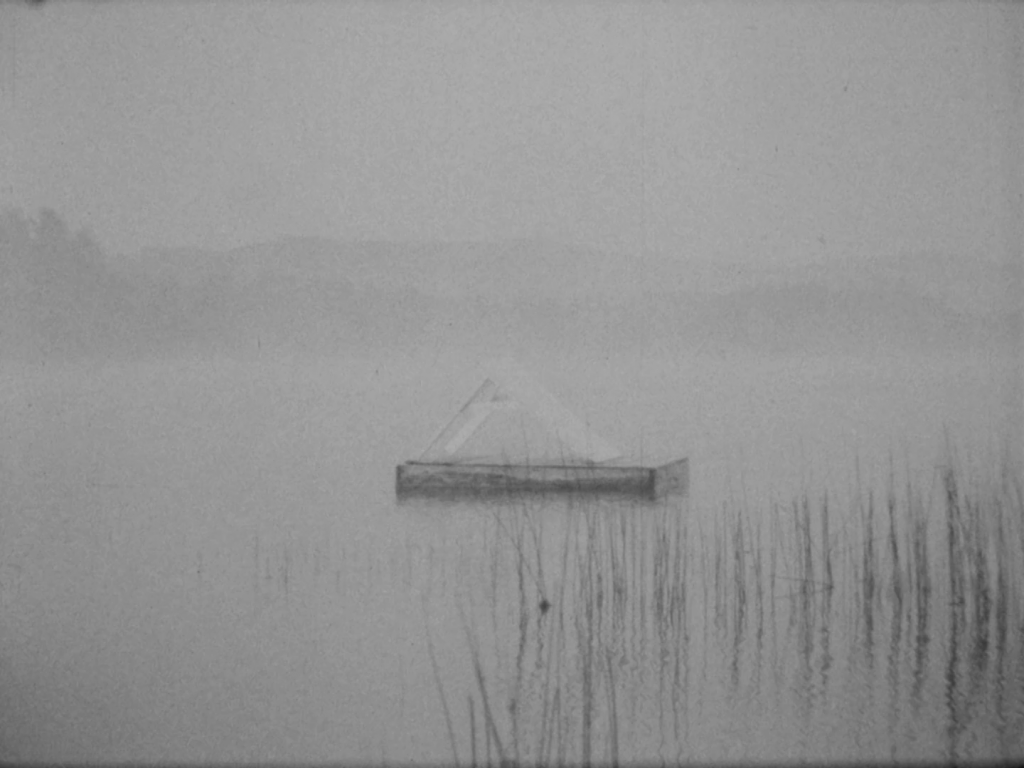 ---
ARTISTS
YOSHIKO CHUMA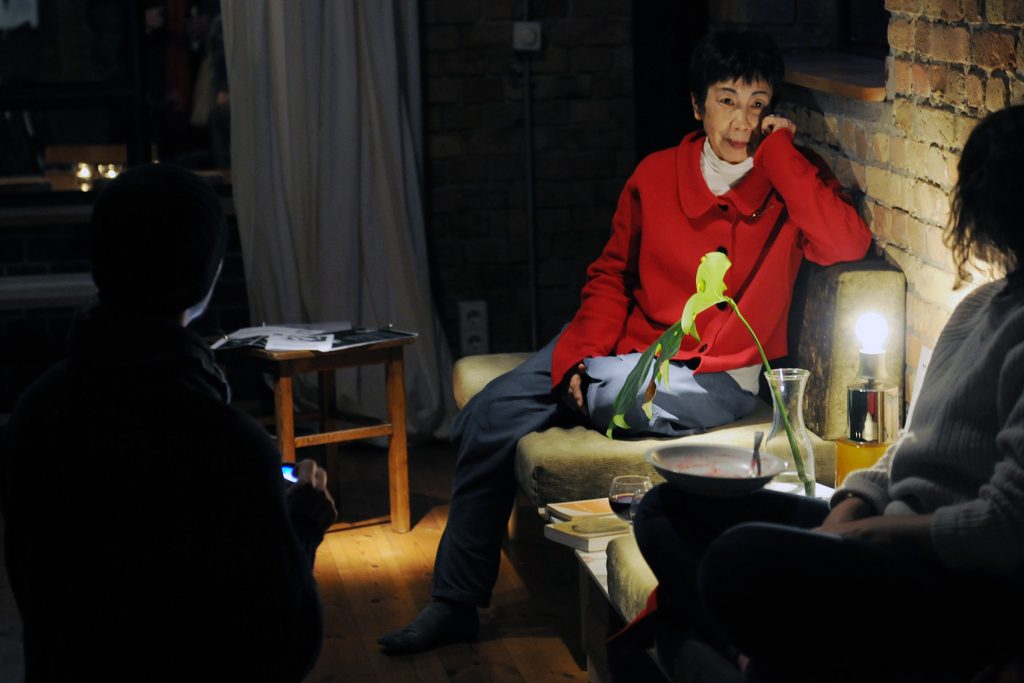 YOSHIKO CHUMA (conceptual artist, choreographer/artistic director of The School of Hard Knocks) has been a firebrand in the post-modern dance scene of New York City since the 1980s, has been consistently producing thought-provoking work that is neither dance nor theater nor film nor any other pre-determined category. She is an artist on her own journey, a path that has taken her to over 40 "out of the way" countries and collected over 2000 artists, thinkers and collaborators of every genre since establishing her company in New York City in 1980. The School of Hard Knocks was founded as a company of diverse backgrounds. Its purpose is to create, perform, encourage and sponsor experimental and multi-disciplinary and multi-media work. The School of Hard Knocks is an ongoing phenomenon—its shape as diverse as the situations the company performs in—from street performances to formal theatre/dance concerts to large scale spectacles. Company activities include an annual New York season, ongoing development and rehearsal of new works, and performances/residencies and collaborations with local artists on tour throughout the United States, East and Central Europe, Asia, Middle East, and South America.
Over the course of the company's history, more than 2,000 people have performed under Chuma's direction. Notable international performers have been involved in the School of Hard Knocks over its 40 year history, including Stephen Petronio, Vicky Schick, Jodi Melnick, David Zambrano, Sasha Waltz, Sarah Michelson, DD Dorvillier, Allyson Green, Miriam Parker, Simon Courchel, John Jasperse, David Dorfman, and many others.
Between 1979 and 1982 Yoshiko Chuma directed seven films on 16 mm, that were shown for the very first time in Europe at POOL Shine.
YOSHIKO CHUMA Choreografin und künstlerische Leiterin der Company The School of Hard Knocks. Geboren in Osaka, Japan, lebt und arbeitet sie seit 1976 in New York. Yoshiko Chuma hat mehr als 60 Bühnenstücke und site-specific Performances produziert. Zwischen 1979 und 1982 drehte sie sieben 16-mm Filme, die im Rahmen von POOL Shine digitalisiert und teils erstmalig in Europa präsentiert wurden.
Photo: Barbara Dietl
---
PHILL NIBLOCK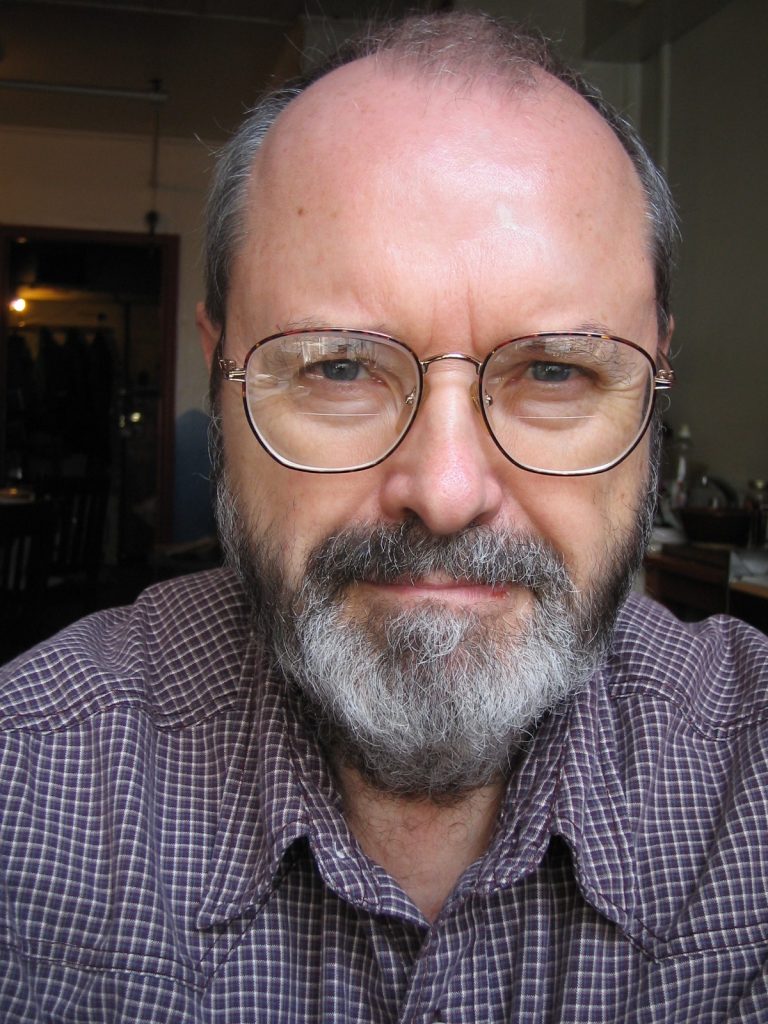 PHILL NIBLOCK (b. 1933, USA) is an artist whose fifty-year career spans minimalist and experimental music, film and photography. Since 1985, he has served as director of Experimental Intermedia*, a foundation for avant-garde music based in New York with a branch in Ghent, and curator of the foundation's record label XI. Known for his thick, loud drones of music, Niblock's signature sound is filled with microtones of instrumental timbres that generate many other tones in the performance space. In 2013, his diverse artistic career was the subject of a retrospective realised in partnership between Circuit (Contemporary Art Centre Lausanne) and Musée de l'Elysée. The following year Niblock was honoured with the prestigious Foundation for Contemporary Arts John Cage Award.
Niblock has collaborated with numerous choreographers, including Yvonne Rainer, Meredith Monk and Dana Reitz.
*Experimental Intermedia was founded in 1968 by choreographer and filmmaker Elaine Summers, offering organizational support for artists working in intermedia forms. In 1983, the Foundation organized the filmdance festival which became today an important source for the program of SHINE – NEW YORK TRACES.
PHILL NIBLOCKs künstlerisches Schaffen erstreckt sich über minimalistische und experimentelle Musik, Film und Fotografie. Seit 1985 ist er Direktor der Experimental Intermedia Foundation, einer Stiftung für Avantgarde-Musik mit Sitz in New York und Gent, sowie Kurator des zugehörigen Plattenlabels XI. Niblock kollaborierte mit zahlreichen Choreograf*innen, darunter Yvonne Rainer, Meredith Monk und Dana Reitz.
*Experimental Intermedia wurde 1968 von der Choreografin und Filmemacherin Elaine Summers gegründet, um Künstler*innen zu unterstützen, die in intermedialen Formaten arbeiteten. 1983 richtete die Foundation das Filmdance Festival aus, dessen Katalog heute für das Programm von POOL SHINE – New York Traces eine wichtige Quelle geworden ist.
JACOB BURCKHARDT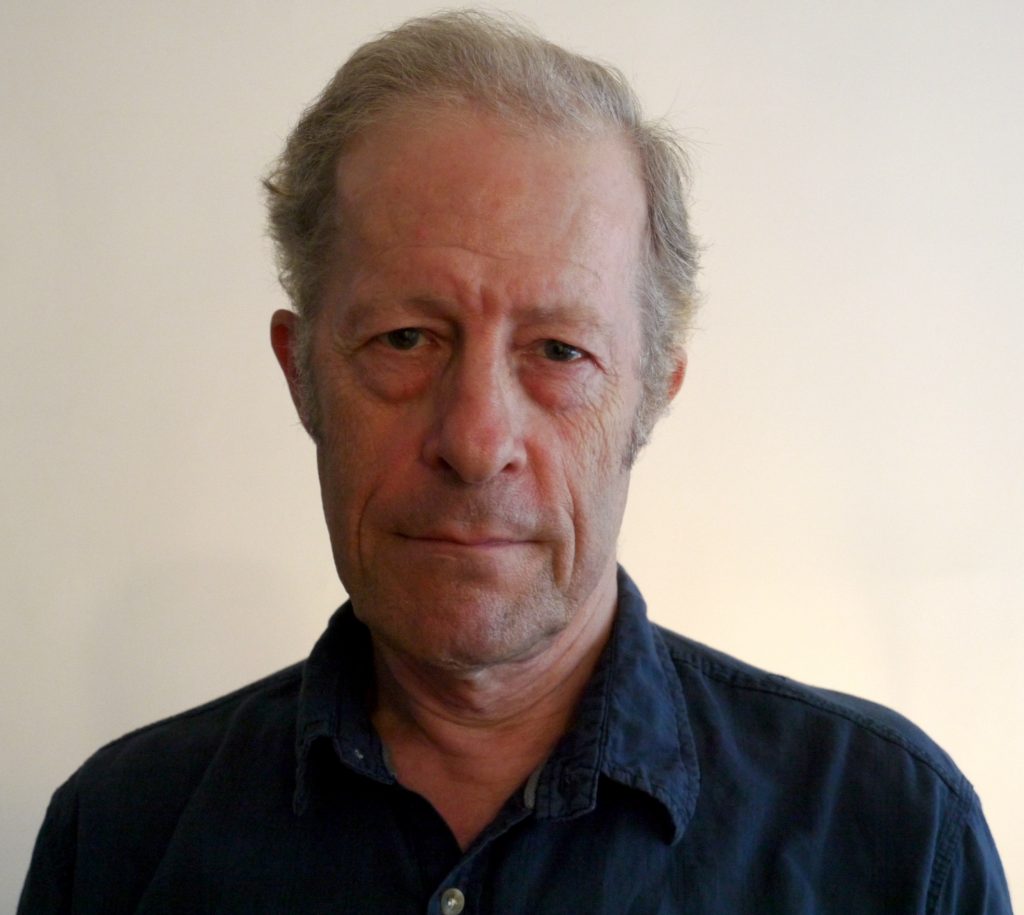 All the while making underground movies, JACOB BURCKHARDT has worked at a variety of jobs: Steel Mill laborer, grape harvester, Fuller Brush man, Truck driver, Taxi driver, camera repairman, freelance photographer, and audio engineer. He now teaches in the Film/Video department at the Pratt Institute in Brooklyn. After making two feature movies in the 1980s (It Don't Pay to be an Honest Citizen and Landlord Blues) he went back to making shorts, in 16 millimeter film and video, where it is possible to preserve a direct relationship between the film and the filmmaker.
JACOB BURCKHARDT ist Filmemacher und Sounddesigner. Nachdem er in den 1980er Jahren zwei Spielfilme gedreht hatte (It Don't Pay to be an Honest Citizen und Landlord Blues), kehrte er zur Herstellung von Kurzfilmen im 16-Millimeter-Film- und Videoformat zurück, um die direkte Beziehung zwischen dem Film und dem Filmemacher zu bewahren. Heute unterrichtet er am Pratt Institute in Brooklyn im Fachbereich Film/Video.
---
ARTHUR RUSSELL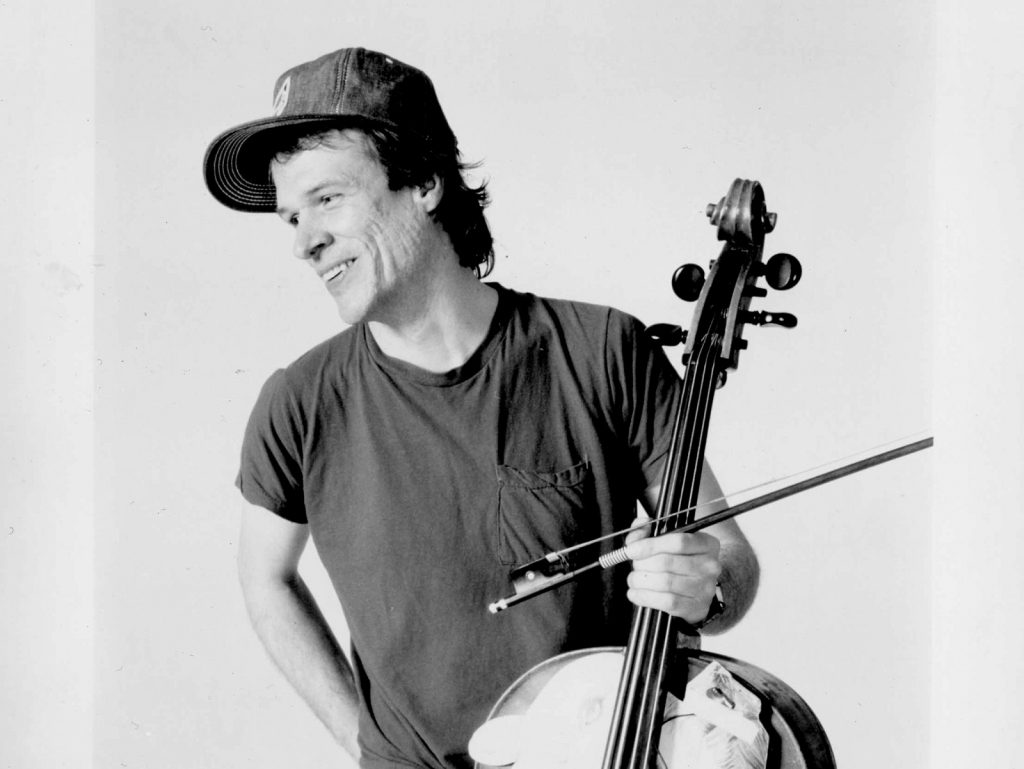 ARTHUR RUSSELL (cellist, composer, producer, and singer) is sometimes called "the disco cellist" due to his eclectic music created often with just the unique sounding of his voice and the cello, marked by distinctive, experimental production choices. He is celebrated today as a great influencer within the field of instrumental music, disco, dance and dub. Russell passed away in 1992 at the age of 40 to an AIDS-related illness.
ARTHUR RUSSELL (Cellist, Komponist, Produzent und Sänger) kreierte aus dem Zusammenspiel von Stimme und Cello vielseitige Kompositionen, die sich durch unkonventionelle, experimentelle Produktionsentscheidungen auszeichneten. Während seine Arbeiten zu Lebzeiten wenig Aufmerksamkeit erfuhren, gilt er heute als einflussreicher und bedeutender Künstler im Bereich der Instrumentalmusik, Disco, Tanz und Dub. Russell verstarb 1992 im Alter von 40 Jahren an einer AIDS-Erkrankung.
---
LAURIE ANDERSON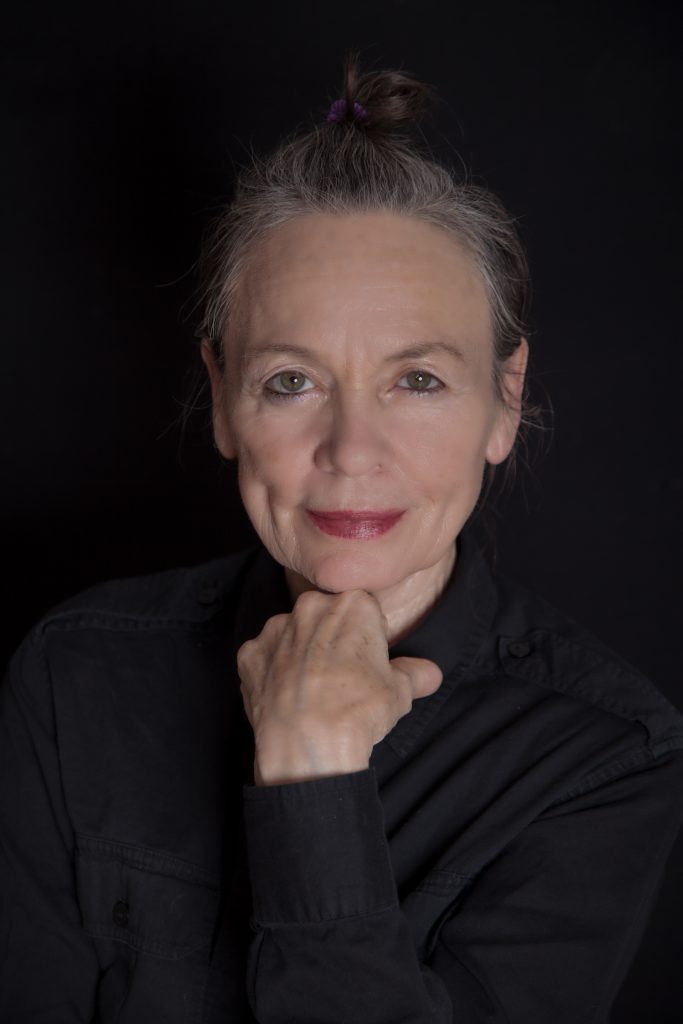 LAURIE ANDERSON (multimedia artist and storyteller) is one of US' most renowned creative pioneers and recognized worldwide as a groundbreaking leader in the use of technology in the arts. Wildly accomplished Anderson has toured internationally with her music, and her visual work has been presented in major museums around the globe. The O Superman track launched Anderson's recording career and exemplifies the depths of her aesthetics and unique storytelling.
LAURIE ANDERSON (Performancekünstlerin, Sängerin, Autorin und bildende Künstlerin) gilt als Pionierin im Einsatz von Technologie in den Künsten. Die vielseitige Künstlerin tourte mit ihrer Musik auf zahlreichen internationalen Bühnen, ihre visuellen Arbeiten wurden in einschlägigen Museen der USA und Europas präsentiert. O Superman markiert den Beginn von Andersons Karriere und veranschaulicht die ästhetische Komplexität und einzigartige Erzählkunst ihrer Arbeiten.