FILMS BY DAVE GEAREY AND PHILL NIBLOCK WITH DANCER AND CHOREOGRAPHER DANA REITZ
followed by an artist talk with Dave Gearey and Yoshiko Chuma
moderated by Peter Pleyer
13 October 2022
7 pm | 19.00 Uhr
PROGRAMME
FOOTAGE
Dave Gearey | Tanz: Dana Reitz | USA 1976 | 00:09:30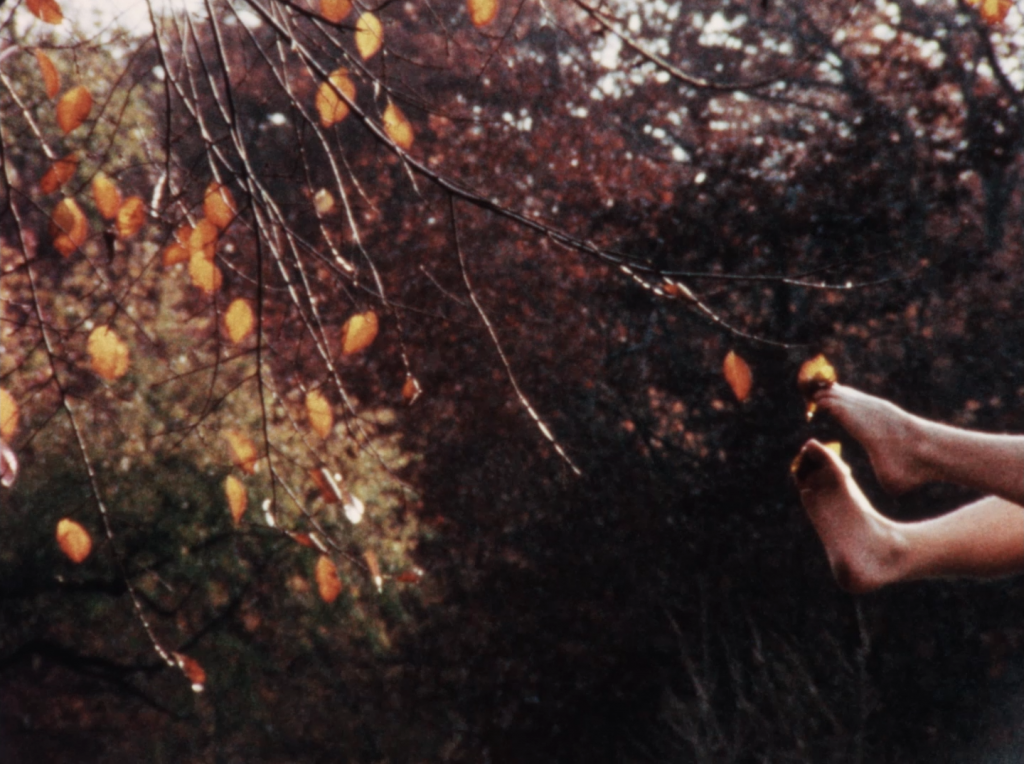 Feet, playfully moving in different spaces.
"It's a wonderful feeling to have feet discover themselves running, digging into mud and sand, at the water's edge, in the sunlight, caressing air and casting shadows." – Leonard Horowitz, The Soho Weekly News
Füße, verspielt an verschiedenen Orten.
"Es ist ein wunderbares Gefühl, Füße zu sehen, die sich selbst beim Laufen entdecken, wühlend im Schlamm und Sand, am Ufer, im Sonnenlicht, umschmeichelt von Luft und werfenden Schatten." Leonard Horowitz, The Soho Weekly News
Once Again
Dave Gearey | Tanz: Dana Reitz | USA 1974 | 00:04:00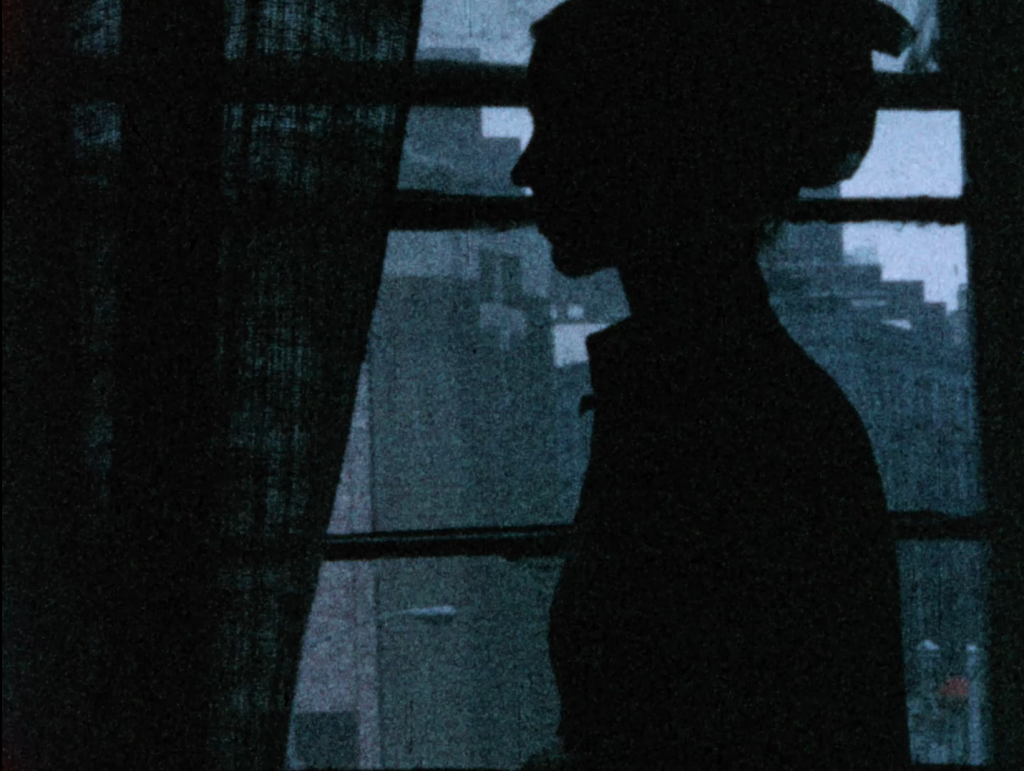 A humorous, stop-animated homage to Vermeer's lady friend, who, in expectation of a telephone call, looks out the window.
Eine humorvolle, stop-motion Hommage an Vermeer's Freundin, die, einen Anruf erwartend, aus dem Fenster blickt.
Airwaves
Dave Gearey | Tanz: Dana Reitz | USA 1974 | 00:05:00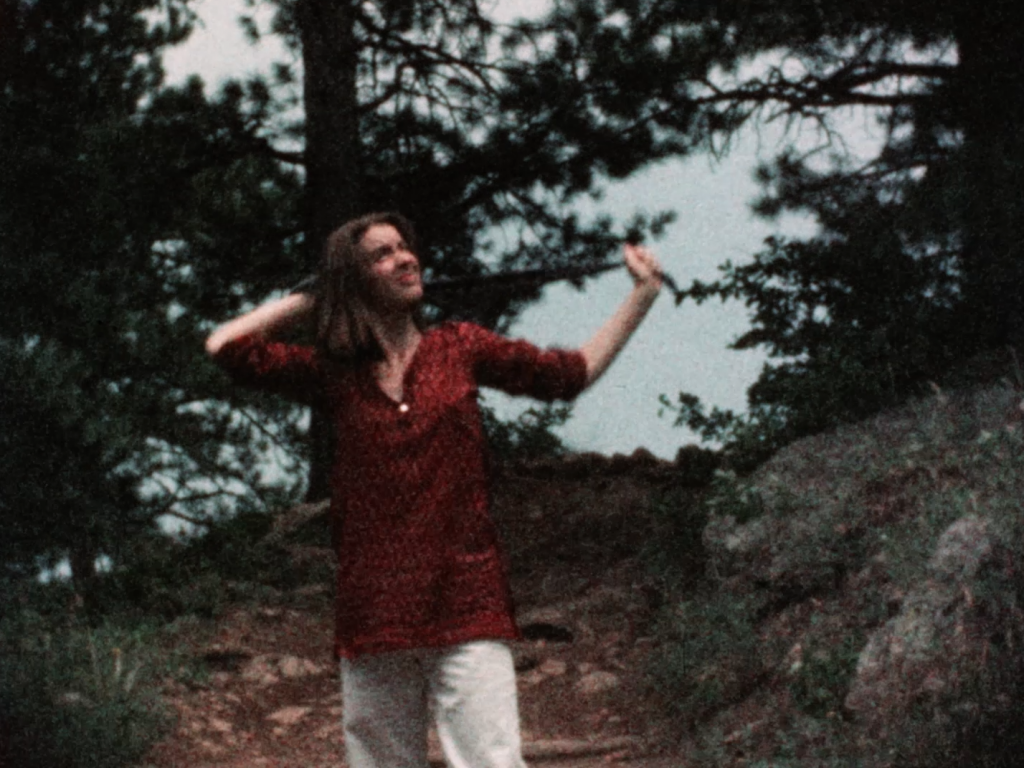 In a variety of landscapes, Dana Reitz moves with the wind. Made while traveling by bus, from the Rocky Mountains to the Pacific Coast.
In verschiedenen Landschaften bewegt sich die Tänzerin Dana Reitz im Wind. Entstanden auf einem Roadtrip von den Rocky Mountains zur Pazifikküste.
3 Locations
Phill Niblock | Tanz: Dana Reitz | USA 1974 | 00:06:47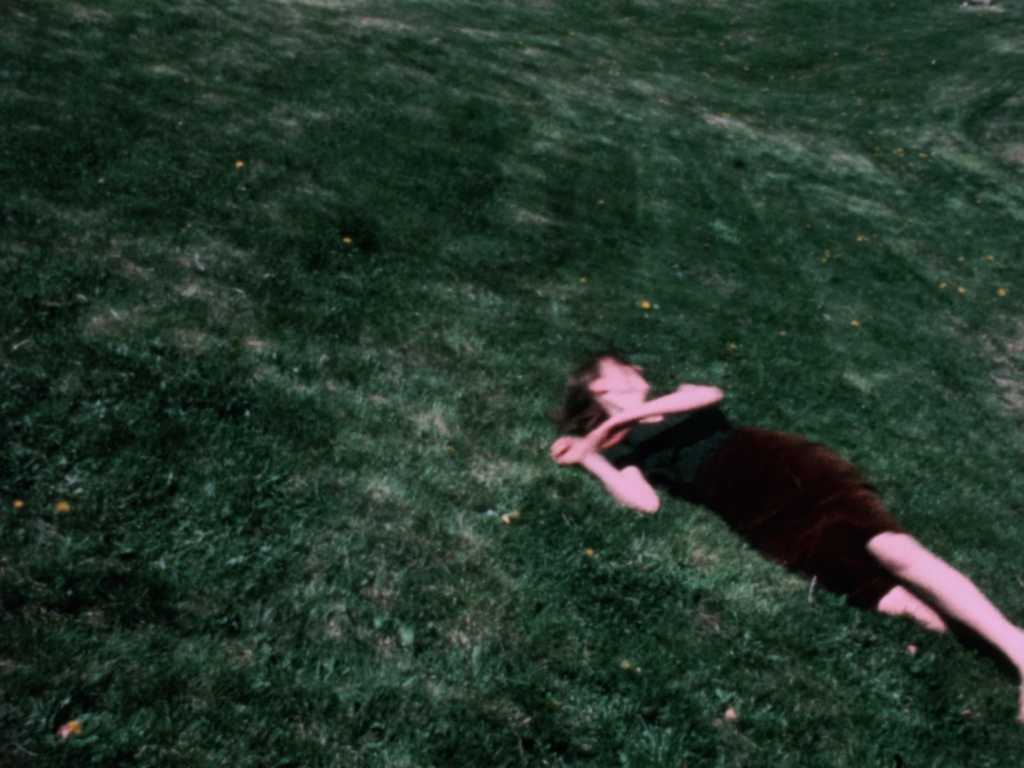 3 Locations, 3 perspectives, 3 intensities – Dana Reitz explores three different environments: brick patio (jumping), hillside (crawling/rolling) and tree trunk (balancing).
3 Orte, 3 Blickwinkel, 3 Intensitäten – mit ihrem Körper erkundet Dana Reitz drei verschiedene Umgebungen: in die Luft springend, auf dem Boden rollend, auf einem Baumstamm balancierend.
Lightplay
Dave Gearey | USA 1987 | 00:28:00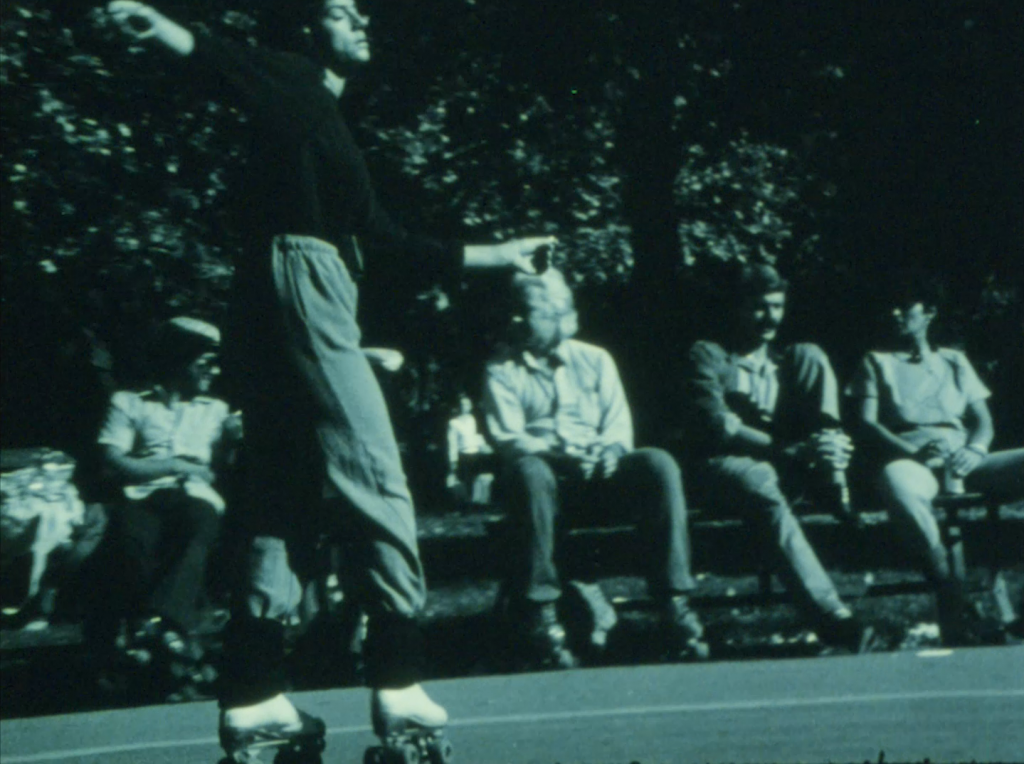 8 sketches of athletes and visitors at Central Park, involved in their chosen activities: Cycling, Volleyball, Soccer, Runners, Boats, Basketball, Baseball and Roller-skating.
8 Skizzen von Sportler*innen und Besucher*innen des Central Parks, die verschiedenen Aktivitäten nachgehen: Fahrradfahren, Volleyball, Fußball, Jogging, Modellboot fahren, Basketball, Baseball und Rollschuhlaufen.
Branches
Dave Gearey | Tanz: Dana Reitz, Nannette Sievert, Carol Marcy |
USA 1975 | 00:06:30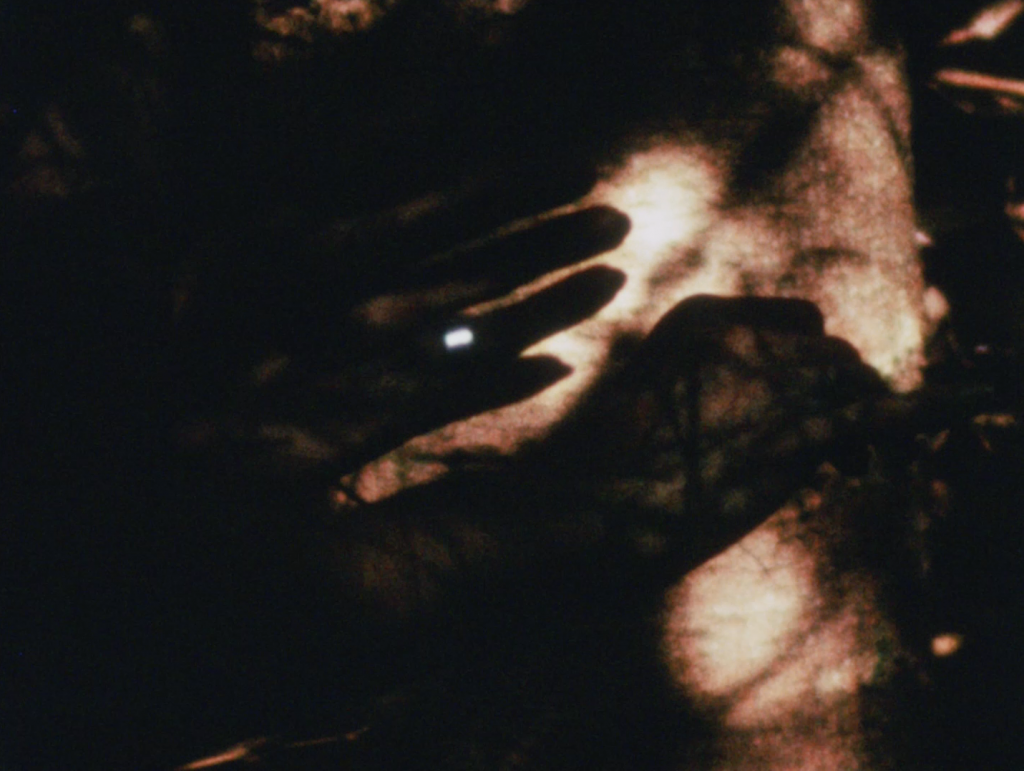 3 dancers perform in a forest, illuminated at sundown, with music from Malcolm Goldstein.
Shadows of twigs and branches drape over the skin of the dancers like nets, creating an interplay between concrete forms and abstract imagery.
3 Tänzer*innen performen im Abendlicht im Wald, mit Musik von Malcom Goldstein.
Schatten von Zweigen und Ästen legen sich wie ein Netz über ihre Haut und schaffen ein Wechselspiel zwischen konkreten Formen und abstrakter Bilderwelt.
---
ARTISTS
DAVE GEAREY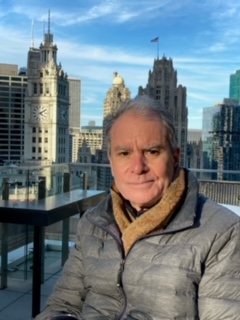 "After graduating from St. Francis College in Brooklyn, New York, I wanted to be a poet but soon realized that what motivated me was how to visualize the world. Enrolling in a class at the excellent but short-lived 'School of Motion Picture Arts', I learned how to operate 16 mm cameras and began making short personal films as works of visual poetry. Soon after, I worked in a government funded program called 'Summer-in-the-City', which employed artists to connect young people with the Arts. While continuing my personal work, I made a series of short films with choreographer and dancer Dana Reitz and continued to explore how filmic images can express visual and rhythmic movement. My films include the work of several composers whose compositions amplify those qualities.
My work has been screened at a variety of festivals and venues in the USA, Canada, Europe and Japan. I retired after a career of teaching Film Production at City University of New York and now look for movement in still photography!"
"Nach meinem Abschluss am St. Francis College in Brooklyn, New York, wollte ich eigentlich Dichter werden, merkte aber bald, dass mich die Frage, wie sich die Welt in visuelle Bilder fassen lassen kann, mehr inspirierte. Ich belegte einen Kurs an der hervorragenden, aber nur kurz bestehenden 'School of Motion Picture Arts', lernte den Umgang mit 16-mm-Kameras und begann, kurze Filme [personal films] zu drehen als eine Form visueller Poesie. Bald darauf arbeitete ich in einem staatlich finanzierten Programm namens "Summer-in-the-City", das Künstler beschäftigte, um junge Menschen mit Kunst in Kontakt zu bringen. Während ich meine persönliche Arbeit weiterverfolgte, drehte ich eine Reihe von Kurzfilmen mit der Choreografin und Tänzerin Dana Reitz und setzte mich damit auseinander, wie rhythmische und visuelle Bewegung in filmischen Bildern Ausdruck finden kann. Die Kompositionen verschiedener Musiker, mit denen ich für meine Filme zusammenarbeitete, verstärken diese Qualitäten.
Meine Arbeiten wurden auf einer Vielzahl von Festivals und an verschiedenen Orten in den USA, Kanada, Europa und Japan gezeigt. Nachdem ich langjährig als Dozent für Filmproduktion an der City University of New York tätig war, bin ich in den Ruhestand getreten und suche nun nach Bewegung in der Fotografie!"
Dave Gearey (*1942), 2022.
---
PHILL NIBLOCK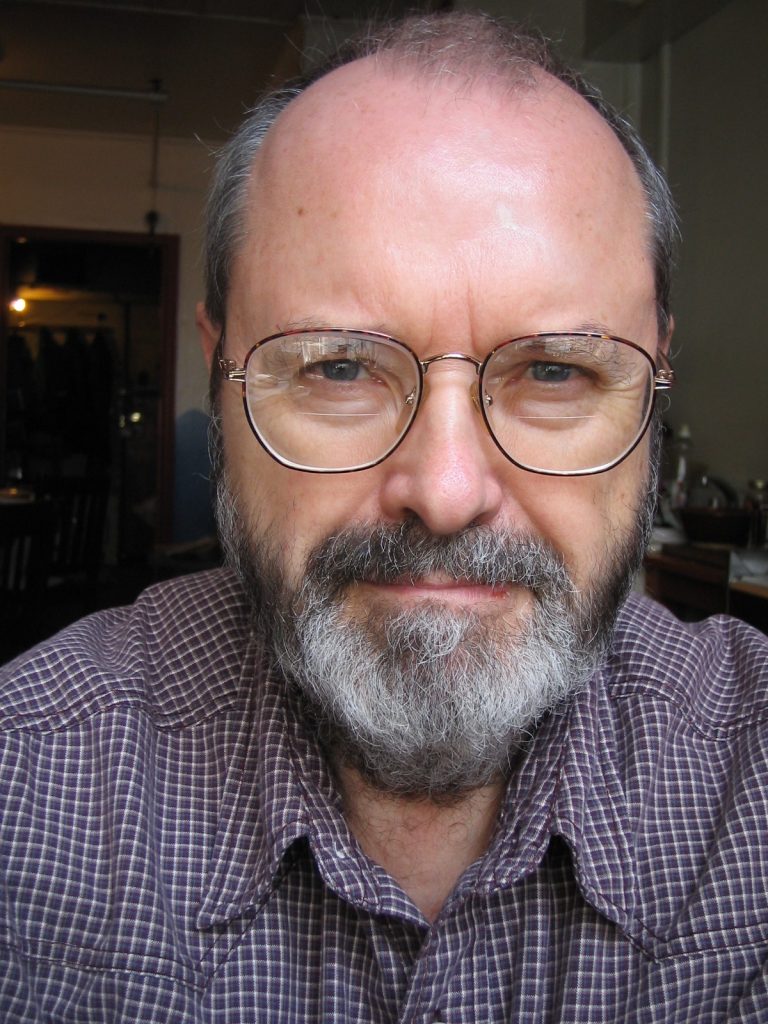 Phill Niblock (b. 1933, USA) is an artist whose fifty-year career spans minimalist and experimental music, film and photography. Since 1985, he has served as director of Experimental Intermedia*, a foundation for avant-garde music based in New York with a branch in Ghent, and curator of the foundation's record label XI. Known for his thick, loud drones of music, Niblock's signature sound is filled with microtones of instrumental timbres that generate many other tones in the performance space. In 2013, his diverse artistic career was the subject of a retrospective realised in partnership between Circuit (Contemporary Art Centre Lausanne) and Musée de l'Elysée. The following year Niblock was honoured with the prestigious Foundation for Contemporary Arts John Cage Award.
Niblock has collaborated with numerous choreographers, including Yvonne Rainer, Judith Dunn and Carolee Schneemann. In 2016, his film ANNIE (1968) with dancer Ann Danhoff was shown as part of SHINE, as well as TRIO FILM (1968) by Yvonne Rainer, for which he did the cinematography.
*Experimental Intermedia was founded in 1968 by choreographer and filmmaker Elaine Summers, offering organizational support for artists working in intermedia forms. In 1983, the Foundation organized the filmdance festival which became today an important source for the program of SHINE – NEW YORK TRACES.
Phill Niblock (* 1933) ist ein Künstler, dessen Schaffen sich über minimalistische und experimentelle Musik, Film und Fotografie erstreckt. Seit 1985 ist er Direktor der Experimental Intermedia Foundation*, einer Stiftung für Avantgarde-Musik mit Sitz in New York und Gent, sowie Kurator des zugehörigen Plattenlabels XI.
Niblock kollaborierte mit zahlreichen Choreograf*innen, darunter Yvonne Rainer, Judith Dunn und Carolee Schneemann. 2016 wurde sein Film ANNIE (1968) mit der Tänzerin Ann Danhoff im Rahmen von SHINE präsentiert, ebenso wie Yvonne Rainers TRIO FILM (1968), bei dem Niblock an der Kamera war.
*Experimental Intermedia wurde 1968 von der Choreografin und Filmemacherin Elaine Summers gegründet, um Künstler*innen zu unterstützen, die in intermedialen Formaten arbeiteten. 1983 richtete die Foundation das Filmdance Festival aus, dessen Katalog heute für das Programm von POOL SHINE – New York Traces eine wichtige Quelle geworden ist.
DANA REITZ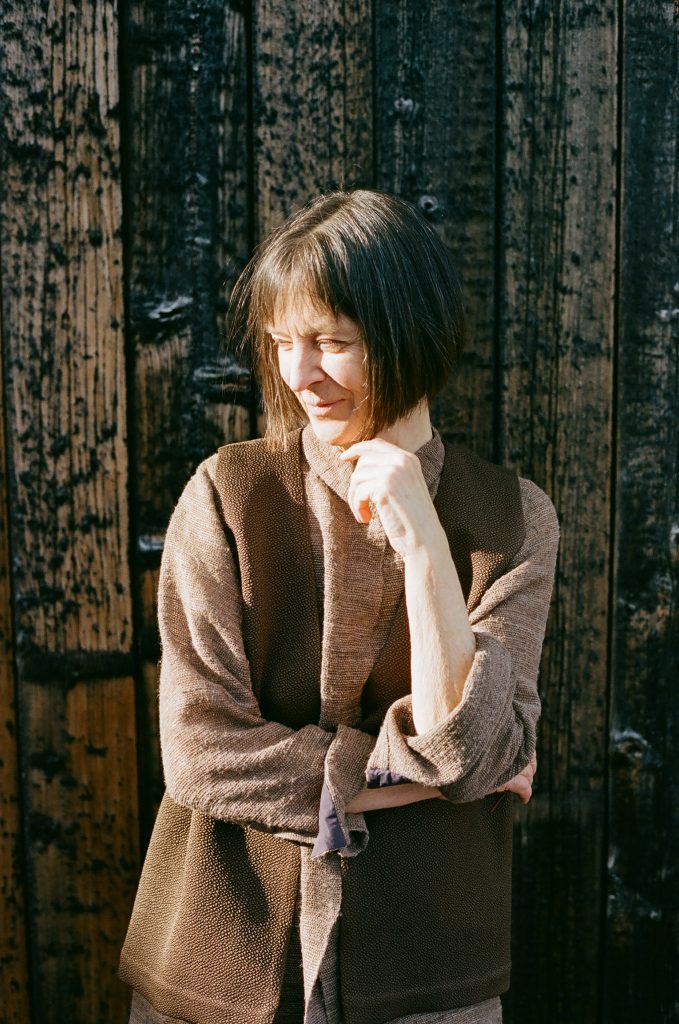 Dana Reitz, choreographer, dancer and visual artist, often uses silence as a means to reveal the musical nuance of movement itself. On her own and in her collaborations with lighting artists including Beverly Emmons, James Turrell, and extensively, Jennifer Tipton, she has pioneered the use of light as a physical partner. Her woven movement and light scores – essential, spare and fleeting – create a continually shifting perception of time and space.
Her performance projects include Necessary Weather, a work with Tipton and dancer Sara Rudner, Unspoken Territory, a solo she created for Mikhail Baryshnikov, Shoreline, Private Collection, Lichttontanz, Suspect Terrain, Circumstantial Evidence, Severe Clear, and Field Papers. She and Baryshnikov toured together with a program of solos; she later created Cantata for Two, a duet for Baryshnikov and Kabuki master Tamasaburo Bando (Tokyo). Latitude, performed by Reitz with Elena Demyanenko and Yanan Yu, was produced and presented by Lumberyard Contemporary Performing Arts at New York Live Arts in February, 2018.
Reitz has toured, as a performer and mentor, throughout Europe, Asia, Australia and the US. Since 1973, she has been commissioned/produced by multiple venues internationally including The Festival d'Automne (Paris), The Hebbel Theater (Berlin), The Gulbenkian Foundation (Portugal), The Dance Umbrella (London), BAM's Next Wave Festival, and the Lincoln Center White Light Festival (New York). She is the recipient of two Bessies, a Guggenheim Fellowship, and multiple awards from the National Endowment for the Arts, including one as part of American Masterpieces, Three Centuries of Artistic Genius, sponsored by the Flynn Center (Vermont).
Dana Reitz – Choreografin, Tänzerin und bildende Künstlerin – nutzt in ihrer Arbeit Stille als ein Mittel, um die musikalischen Nuancen der Bewegung selbst offen zu legen. Sowohl in ihrem eigenen Schaffen als auch in der Zusammenarbeit mit Lichtkünstler*innen wie Beverly Emmons, James Turrell und Jennifer Tipton hat sie Pionierarbeit geleistet, indem sie Licht als einen physischen Partner in ihre Performances integrierte. Ihre reduzierten Bewegungs- und Lichtscores, die eng ineinander verwoben sind, schaffen eine sich ständig verändernde Wahrnehmung von Zeit und Raum.
---
CO-CURATOR
YOSHIKO CHUMA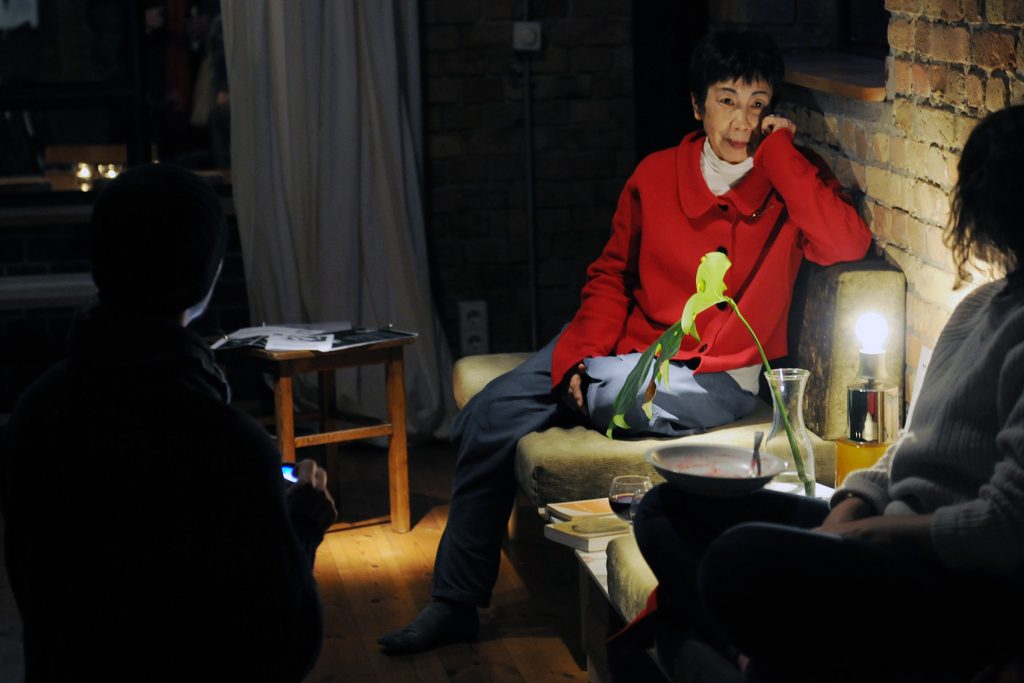 Yoshiko Chuma (conceptual artist, choreographer/artistic director of The School of Hard Knocks) has been a firebrand in the post-modern dance scene of New York City since the 1980s, has been consistently producing thought-provoking work that is neither dance nor theater nor film nor any other pre-determined category. She is an artist on her own journey, a path that has taken her to over 40 "out of the way" countries and collected over 2000 artists, thinkers and collaborators of every genre since establishing her company in New York City in 1980. The School of Hard Knocks was founded as a company of diverse backgrounds. Its purpose is to create, perform, encourage and sponsor experimental and multi-disciplinary and multi-media work. The School of Hard Knocks is an ongoing phenomenon—its shape as diverse as the situations the company performs in—from street performances to formal theatre/dance concerts to large scale spectacles. Company activities include an annual New York season, ongoing development and rehearsal of new works, and performances/residencies and collaborations with local artists on tour throughout the United States, East and Central Europe, Asia, Middle East, and South America.
Over the course of the company's history, more than 2,000 people have performed under Chuma's direction. Notable international performers have been involved in the School of Hard Knocks over its 40 year history, including Stephen Petronio, Vicky Schick, Jodi Melnick, David Zambrano, Sasha Waltz, Sarah Michelson, DD Dorvillier, Allyson Green, Miriam Parker, Simon Courchel, John Jasperse, David Dorfman, and many others.
Between 1979 and 1982 Yoshiko Chuma directed seven films on 16 mm, that were shown for the very first time in Europe at POOL Shine.
Yoshiko Chuma ist Choreographin und künstlerische Leiterin der Company The School of Hard Knocks. Geboren in Osaka, Japan, lebt und arbeitet sie seit 1976 in New York. Yoshiko Chuma hat mehr als 60 Bühnenstücke und site-specific Performances produziert. Zwischen 1979 und 1982 drehte Yoshiko Chuma sieben 16 mm Filme, die bei POOL Shine erstmalig in Europa präsentiert wurden.
---
WITH THANKS TO

Dana Reitz, Dave Gearey and Phill Niblock
The Film-Makers' Cooperative, MM Serra, Adam Hogan
and Yoshiko Chuma