POOL Shine – New York Traces presents films that emerged from collaborations between artists of postmodern dance, visual arts, and the experimental film scene from the 60s to 80s in New York, including films by Yoshiko Chuma, Elaine Summers, Pooh Kaye and Elizabeth Ross Wingate, Joan Jonas and Meredith Monk.
Furthermore the festival will showcase Elaine Summers' film Two Girls Downtown Iowa (1973) as an installation at Zionskirche. The program will be accompanied by workshops with choreographer and filmmaker Yoshiko Chuma and dancer and choreographer Thomas Körtvélyessy, who is also in charge of Elaine Summers' artistic estate.
POOL Shine – New York Traces präsentiert Filme, die im Austausch zwischen Künstler:innen des postmodernen Tanzes, der Bildenden Kunst und der New Yorker Experimentalfilmszene zwischen 1960-90 entstanden sind. Gezeigt werden Filme von Yoshiko Chuma, Elaine Summers, Pooh Kaye, Joan Jonas und Meredith Monk. Zudem präsentiert das Festival Elaine Summers' Film Two Girls Downtown Iowa (1973) als Installation in der Zionskirche. Begleitet wird das Programm von Workshops mit der Choreografin und Filmemacherin Yoshiko Chuma und dem Tänzer und Choreografen Thomas Körtvélyessy, zugleich künstlerischer Nachlassverwalter von Elaine Summers.
---
Filmscreening
10th September 2021, 7.30 pm | 19.30 Uhr
Zionskirche
Presenter | Moderation: Peter Pleyer
Guests: Yoshiko Chuma & Thomas Körtvélyessy

Donation bases| auf Spendenbasis (ab 10 €)
After the Shine screening the gallery KLEINERVONWIESE will present the documentary Herz aus Stein – Der Künstler Stefan Rinck [D, 2021, 31 min, DmeU] by Sonja Baeger at Zionskirche at 10:00 pm. A Q&A with the director will follow.
---
INSTALLATION
TWO GIRLS DOWNTOWN IOWA
Elaine Summers | 1973 | USA | 00:11:16

September 3 – 12
Zionskirche
1 – 6 pm | 13.00 – 18.00 Uhr
Free entrance | Freier Eintritt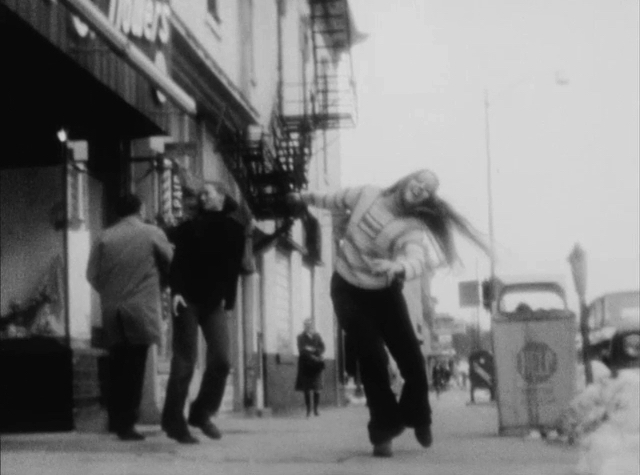 "The work of Elaine Summers invites us to go beyond established categories or styles. It invites us to go beyond "secure" frames of perception. In fact, the very frame is deregulated, no longer a "safe" guided experience, but going beyond. […] Perception is liberated to flow where it will, guiding the way in the moment."
Thomas Körtvélyessy
---
Workshops