Pooh Kaye & Elisabeth Ross Wingate | 1983 | USA | 00:05:29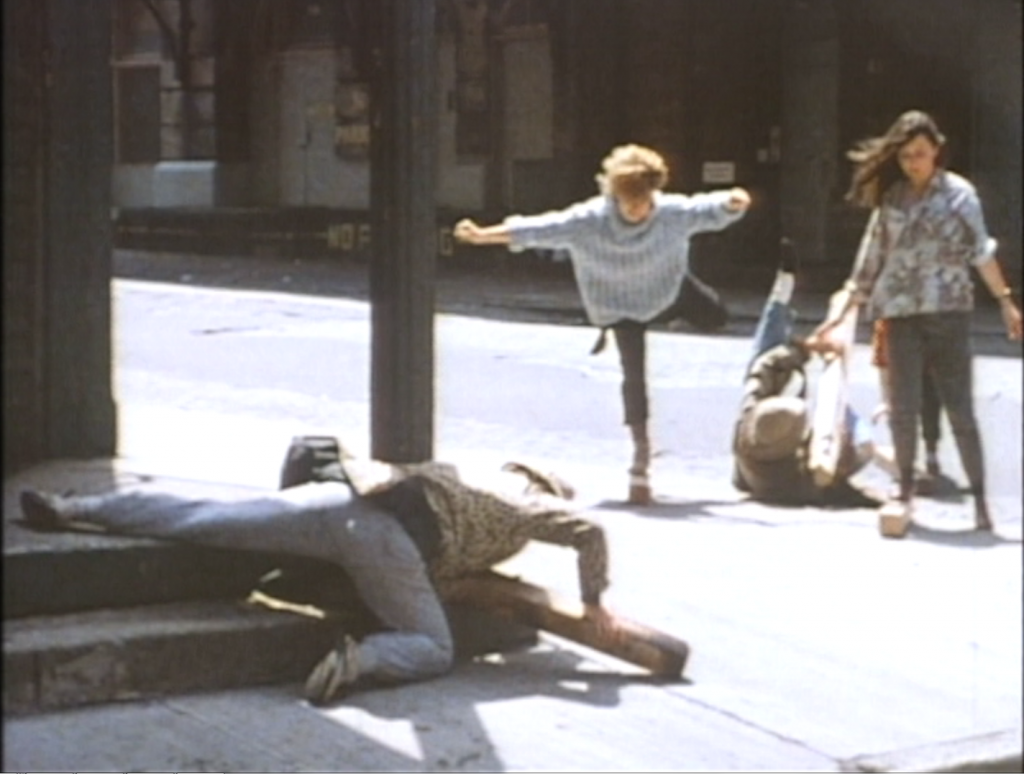 EN
A group of dancers animated by Stop Motion technique move on wooden beams through the urban scape of New York.
Sticks on the Move was shot in 1982 to accompany the January 1983 premiere of, Eccentric Motions, an action and dance performance by Pooh Kaye and colleagues, premiered as a work print at the Kitchen Center, N.YC. in January of 1983. The performers played in both, the film and the dance, and the sound scores for both were created by John Kilgore. 
Pooh Kaye conceived, directed and designed the stop motion film,  Sticks on the Move.  Elisabeth Ross Wingate was the director of photography and post-production for Sticks on the Move.
Pooh Kaye has been making films, videos and performance since attending The Cooper Union School of Art and Design 1968-1972. She founded Eccentric Motions Dance in 1983. Her human stop-motion film projects include the prize winning, Wake Up Call, Inside the House of Floating Paper, and The Painted Princess.
Elisabeth Ross Wingate conceived and directed three film productions including Warm Water Venus and Barbarian Episodes with camera by Rudy Burckhardt.
John Kilgore is a prize winning sound designer. His company, Masque Recording, is still active. John Kilgore composed the sound scores for fifteen of Pooh Kaye/Eccentric Motions projects.
Direction| Post-Production: Pooh Kaye and Elisabeth Ross Wingate
Choreography and Concept: Pooh Kaye
Cinematography: Elisabeth Ross
Dance: Savannah Haske, Pooh Kaye, Nelson Zayas, Donald Fleming, Linda Austin, M. J. Becker, Susan Brown, Bruna Espisito, Erica Eutta, Ginger, Elaine Hartnett , Joseph Haske, Irene Hultman, Lisa Love,
Ursula Kneiss, Jennifer Molson, Brian Moran, Leenie Saks, Laura Segal, Swassi, Tamara Weiss, Andreas Wiegelt, Nina Winthrop
Music and Sound: John Kilgore
---
DE
Eine Gruppe von Tänzer*innen bewegt sich auf Holzbalken durch die urbane Landschaft New Yorks, animiert durch Stop-Motion.
Regie | Postproduction: Pooh Kaye und Elisabeth Ross
Choreographie und Konzept: Pooh Kaye
Kamera: Elisabeth Ross
Tanz: Savannah Haske, Pooh Kaye, Nelson Zayas, Donald Fleming, Linda Austin, M. J. Becker,
Susan Brown, Bruna Espisito, Erica Eutta, Ginger, Elaine Hartnett , Joseph Haske, Irene Hultman, Lisa Love,
Ursula Kneiss, Jennifer Molson, Brian Moran, Leenie Saks, Laura Segal, Swassi, Tamara Weiss,
Andreas Wiegelt, Nina Winthrop
Musik: John Kilgore