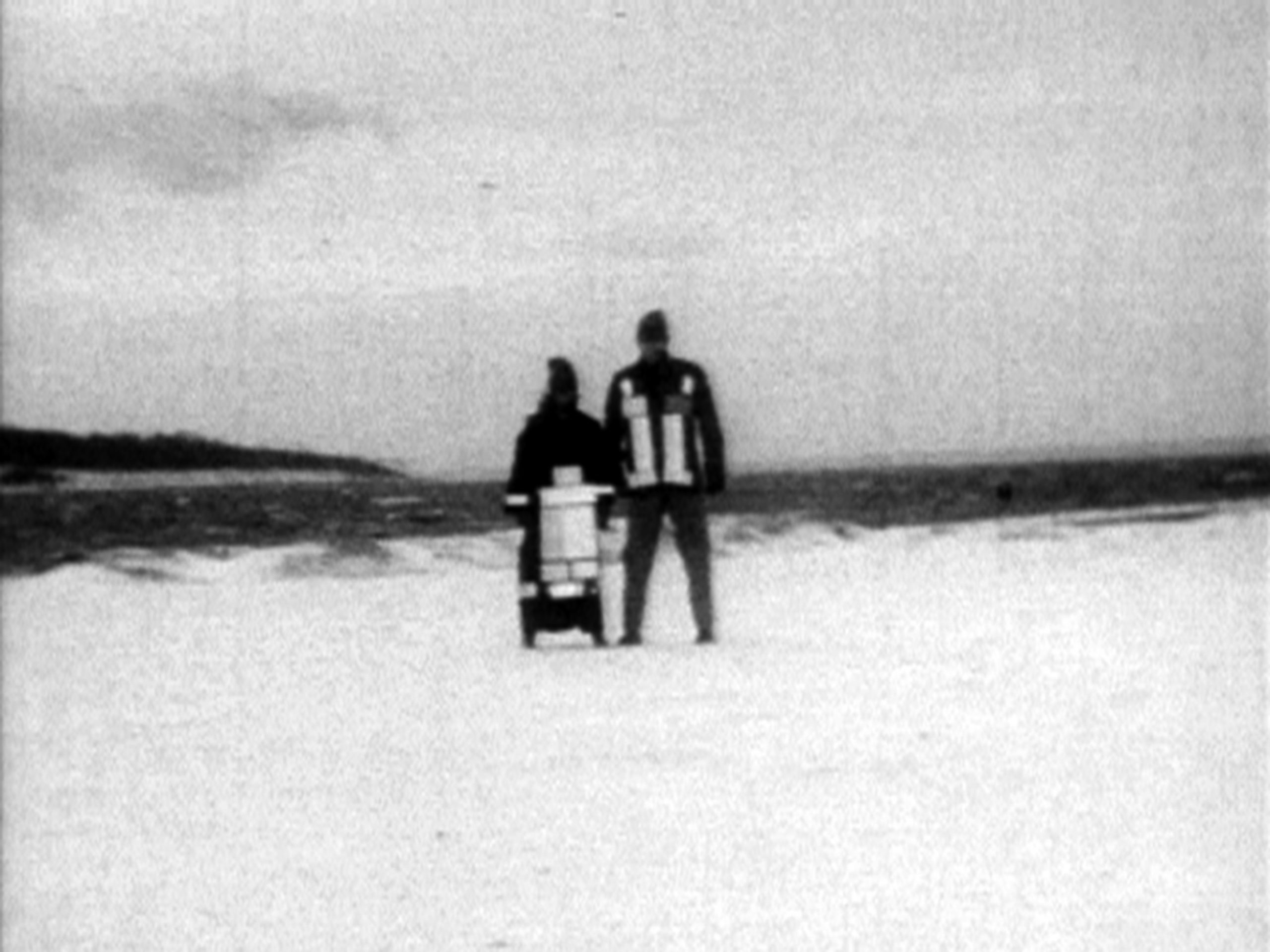 Still from Wind, Joan Jonas, 1968
May 26 & 27, 2018, Saturday & Sunday at 1PM
Location: Douglas Dunn Studio, 541 Broadway, Third Floor
Part of La MaMa Moves! Dance Festival
The screenings are dedicated to the film-choreographic experiments of the New York dance and film scene and follow the traces of the avantgarde movements from the early 60s to 80s. Each day there will be a different selection of exceptional and rarly known dance films presented to the audience.
The estimated program includes films by Yoshiko Chuma, Pooh Kaye, Elaine Summers, Joan Jonas, Yvonne Rainer, Henry Hills and Phill Niblock.
Estimated Program
MAY 26, 2018
Schedule of Films
WIND
Joan Jonas |1968 | USA | 00:05:37
Cutting between snowy fields and a raw seashore, Jonas focuses on a group of performers moving through a stark, windswept landscape. The 16mm film — silent, black and white, jerky and sped-up — evokes early cinema, while its content locates it in the spare minimalism of the late 1960s.
TWO GIRLS DOWNTOWN IOWA
Elaine Summers |1973 | USA | 00:11:16
Filmed with an ultra high-speed camera, the original 3 minutes of encounter between two performers turn into a soft and stretched stream of movement that visualizes even smallest details.
This showing of "Two Girls Downtown Iowa" is with permission of the Artistic Estate of Elaine Summers, in special recognition of the long-time friendships Elaine Summers entertained with artists in New York City and beyond. Special thanks to Kinetic Awareness® Center, Inc. and the Jerome Robbins Dance Division, The New York Public Library for the Performing Arts.
ANNIE
Phill Niblock |1968 | USA | 00:08:00
Slowly "Annie" slides down the stair-rail, runs through the street and in the grass, colours her lips, blinks her eyes – first in the scenery of New York and later in the countryside, Phill Niblock catches the seemingly everyday movements of dancer Ann Danoff in bright colours. Once the camera gazes from a distance, in the next moment it gets so close to the dancer that her body turns into abstract colour movements.
CHAMPING AT THE BIT
Yoshiko Chuma | 1982 | 00:08:00
Shot in the subway without any permission in 1982. The members of cast were called "The School of Hard Knocks"
COMMERCIAL ERRUPTION
Yoshiko Chuma | 1982 | USA | 00:07:55
For Commercial Erruption Yoshiko Chuma acts on Andy Warhol's idea of 15 minutes of fame and translates and exaggerates them into a 1980s time logic: the quarter of an hour turns into only 10 seconds that frame the numerous different protagonists' options to present and merchandise themselves and their individual role models. The reference to advertising strategies of a culminating capitalism are both critical and ironic.
INSIDE THE HOUSE OF FLOATING PAPER
Pooh Kaye | USA | 1984 | 00:05:00
Set in the ruins of a deserted ocean liner terminal on the Hudson River inside New York City, a man and a woman struggle to communicate in a world animated by unseen forces. Dancers interact with graffiti, aban¬doned objects and the crumbling architecture.
THE NUDE POND or JUST WALKING AROUND
Rudy Burckhardt with Douglas Dunn, Yoshiko Chuma & John Ashberry | USA | 1985
MONEY
Henry Hills | 1985 | 00:14:00
"Hills edits his films on an electron microscope, placing audiovisual particle energies in combustive arrangements. He's inventing soundfilm, taking synesthesia further. When Money talks it puts the Lower East Side in a swirl, personality and poverty go into their dance. The film is a loud report, on a scene of bright ephemera, that doesn't die away." Ken Jacobs on Money
MAY 27, 2018
Schedule of Films
TRIO FILM
Yvonne Rainer | Camera: Phill Niblock | USA | 1968 | 00:13:00
"White walls, white carpet, white sofa, and two white club chairs. […] Two nude people and a 2 foot white ballon" – this is how Yvonne Rainer describes the setting of Trio Film.
Slowly and determinedly the camera follows the "decorous", unexcitedly choreographed movements of the two dancers Becky Arnold and Steve Paxton; and becomes part of their sober play which finds an impish end.
SONG DELAY
Joan Jonas | 1973 | USA | 00:18:35
Performing with a cast that includes Gordon Matta-Clark and Steve Paxton, Jonas choreographs a theater of space, movement and sound with the urban landscape of New York in a featured role. Jonas creates a highly original if enigmatic theatrical language of gesture and sound, as she and her performers play with emblematic props, unexpected rhythms of space and scale, references to painting, and audio delays.
STICKS ON THE MOVE
Pooh Kaye | 1983 | USA | 00:05:29
FIVE CAR PILE UP
Yoshiko Chuma | 1983 | USA | 00:03:48
Almost like an invisible spectator the camera captures the choreography of Five Car Pile Up from different perspectives. The relation between front credits, sound and varying velocity of recording make the show appear like a memory of the past in an empty space.
DANCERS, BUILDINGS and PEOPLE in the STREET
Rudy Burckhardt with Douglas Dunn | 1986 | 00:15:00
THE GIRL CAN'T HELP IT
Yoshiko Chuma | 1979 | USA | 00:18:00
First film by Yoshiko Chuma shows simple motions and actions in front of the landscape in Maine, USA.