The appeal of a location–
POOL dives deeper with
Louise Coetzer & Oscar O'Ryan
Oscar O'Ryan's film Not from Here (2021), and Louise Coetzer's film Lacuna (2018) were screened at POOL year 2022. The same year Louise and Oscar received the festival's artist prizes for the artistic language they have developed and for their continuous work in the field of dance film.
02.10.2023

Article by Silja Tuovinen
Images are from the processes of the films Not from Here and Blue Funk (the duo's newest film, currently in circulation)
***
Date of the interview: 22. August 2023
Location: South Africa, Cape Town (video call)
Weather: Cloudy with light rain,
Temperature: 54 degrees Fahrenheit, 12 degrees Celsius,
Wind: 18,6 mph Northwest,
Atmospheric pressure: inHg 29.8,Humidity: 81 %
Choreographer Louise Coetzer, and filmmaker, photographer Oscar O'Ryan are a pioneering dance filmmaker duo working in South Africa, Cape Town. The founders and artistic directors of the independent dance company Darkroom Contemporary, have been making dance films together for around 16 years. Louise and Oscar personify the skill of combining choreographic and filmmaking craft through their years of working together and learning to understand each other. A conversation with them reveals a soft delicacy toward collaboration with a team, the location of a film, expression of emotion and the context of South Africa where they make their work.
Delicate collaboration
Dance film is a format that fuses the crafts of dance and choreography with filmmaking and photography. This is something Louise and Oscar personify separately from each other, but not only, because they have also mastered for themselves the craft of collaboration. What comes through from my discussion with them throughout is the wide-spread appreciation and admiration they have toward each other's talents and each other as persons. This seems to be a core energetic engine in their work. In their projects Louise works with choreography and dance, whilst Oscar focuses on photography and filming.
Collaboration for Oscar and Louise is a matter of care toward each other, their ideas, and getting them communicated. Oscar describes to me how he is sitting at the rehearsal hall where Louise is training with the dancers, and his voice softens: "for the past few films I sit in the rehearsals, and I watch. I try to really understand the emotion that Louise is asking of her dancers to bring – and then on the day of shooting it's not always the matter of what looks the best. It's often rather what is the most flattering thing for that phrase of movement, like where's the light on the skin, how fast shall I move." Oscar elaborates further on this delicacy: "loads of South African artists that perform as dancers are not tied down by whether it's great in terms of technique – if the foot is at its best. A lot of them are tied onto, does the emotion of this thing feel right?"
Louise contemplates that collaboration has to have delicacy because firstly the people collaborating have to find a way to understand each other. Ultimately, collaboration becomes about translating ideas from person to person, and from media to another. "If Oscar is just talking about his cameras I won't really understand – so there is definitely that negotiation of finding a language and a way to get ideas across to each other, but also across to the entire team. If you can get everybody on the same page, and to understand really what the ultimate vision is, then it's easy, but it's to get that across that's quite a challenge actually."
Dance film is an outlet for Louise and Oscar. They seem to be in a constant flow of ideas and projects, floating from starting a new project, to finishing the next. The roles of initiator and collaborator revolve and mix, in what sounds to be continuous impulses of creativity – who has an idea, when and where – you never know! Oscar tells me at the end of our interview "we just finished a project and now I am already thinking when is the next one?" Some projects that the duo make are spontaneous and quick explorations with a dancer, perhaps on top of a roof of a building that an acquaintance owns. Other projects are bigger productions with a larger team. This underlines how dance film as a format is not definable by size of team or style of location.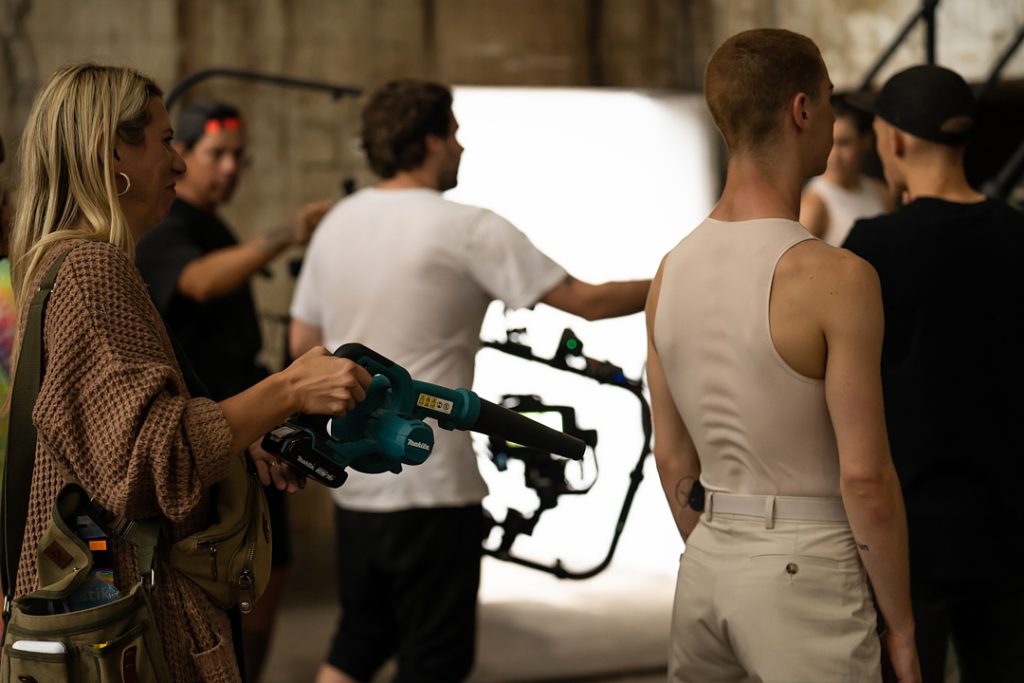 The joy of placing dance in an unexpected environment
Choreographer Louise turned to dance film because she had enough with the repetitiveness of the studio space and black box: "What initially drew me in big part into making dance film, is the fact that you can place dance in a completely different, or unexpected environment that is not the theatre stage. That definitely is always an appeal." Oscar conforms: "I place a lot of trust in Louise, if she says that she'd like to make a performance in Mars, I'd say – wow that's an amazing idea, how do I get you to Mars?". In their films sometimes location comes first, sometimes an idea requires a specific location to be found.
But how does the duo work then with a location, such as Mars? Nowadays Louise and Oscar want to rehearse at the location as much as possible in order for the material to make sense there. "We have learned from our previous processes that often getting into a location is tricky or you have very limited time for filming. So, now we insist that we must have rehearsal days in the location, like full rehearsal days. Of course, often we cannot create the movement in the space, but to really make the movement work in the space you need more time than you initially think" Oscar contemplates.
It's not only easy and sweet. For Louise, taking dance to a different location outside of the studio always comes with challenges and often also limitations. It is exactly through them that she ends up making new discoveries and fuelling her creativity. Gazing past the black box allows the outside world to inspire comprehensively. Louise speaks of her admiration of the sites and their inspirational spark: "it is the appeal of location, or how we could find really intriguing locations for a specific project. Then it's about approaching the movement in a way that is going to be the right choice for that environment. I think I get bored quite quickly if I do the same thing over and over again."
Working as if in collaboration with a location does not only have to do with the film projects themselves, but also with keeping one's eyes open to the world around, and to one's own location in it more generally. Louise tells me "This is what I tend to tell my students, to really stay interested in the world outside of dance. The dance world, if you are a dance student for instance, can feel very isolated and almost like you're existing in this little universe that doesn't have much to do with the real world. It is then within the interest in the rest of the world, that you can be spotting those locations, and collaborations."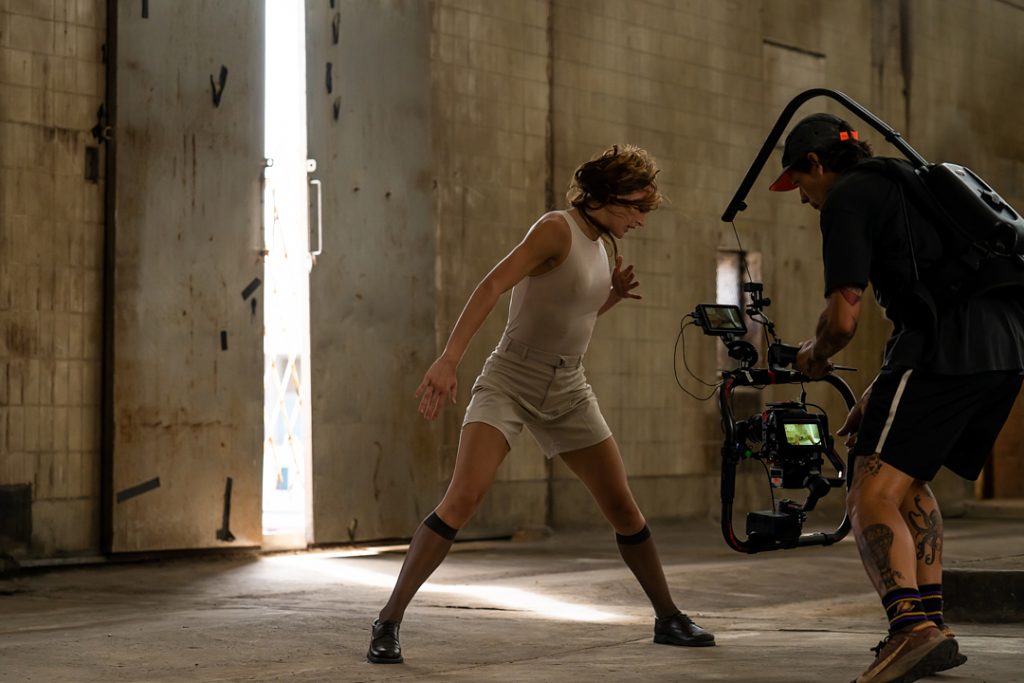 Being of the space
One element of the duo's filmmaking practice is making the film be of the space where it is filmed and bringing the materiality of the film location onto viewers' eyes and ears. In Not from Here (2021) the dancers have handheld mirrors that reflect the curving of the sunlight at the desert. In Lacuna (2018) the dancer's body responds to and reflects the mass of rounding, and bending architecture surrounding itself. Louise shares her view that "[the movement] has to be of that space. It can't just be something and we just transport it in – it has to be the right thing."
Oscar asks me: "did you know that the soundtrack from Not from Here was made in that same space of filming? So we had a genius Brydon Bolton, come along – he's a musician and music teacher and an all-round wonderful human being. It was a super-hot day, he was sweating, and doing all these field recordings, attaching little contact mics to wires that he found, and to rocks – to all different part of that landscape. We took all of those sound clips and gave them to our editor and long-term collaborator Eben Small. From those sound clips he made that original piece of music. We really do try to use all of the elements of the location to support the work."
I comment the story by saying that it sounds to me that Louise and Oscar are using the earth, not only floating through it. Perhaps this is what enhances the earthly emotions that are present in their films – a testament also to how things carry emotions. Oscar tells me "oh that's very much Louise – the work needs to fit into that space in a natural sort of way." The work that Louise and Oscar do appears as holistic, not only focused on one element, which also goes to speak about the comprehensiveness of the film format. "With motion picture you're not looking for one moment, you're looking for one long weave of something" Oscar notes.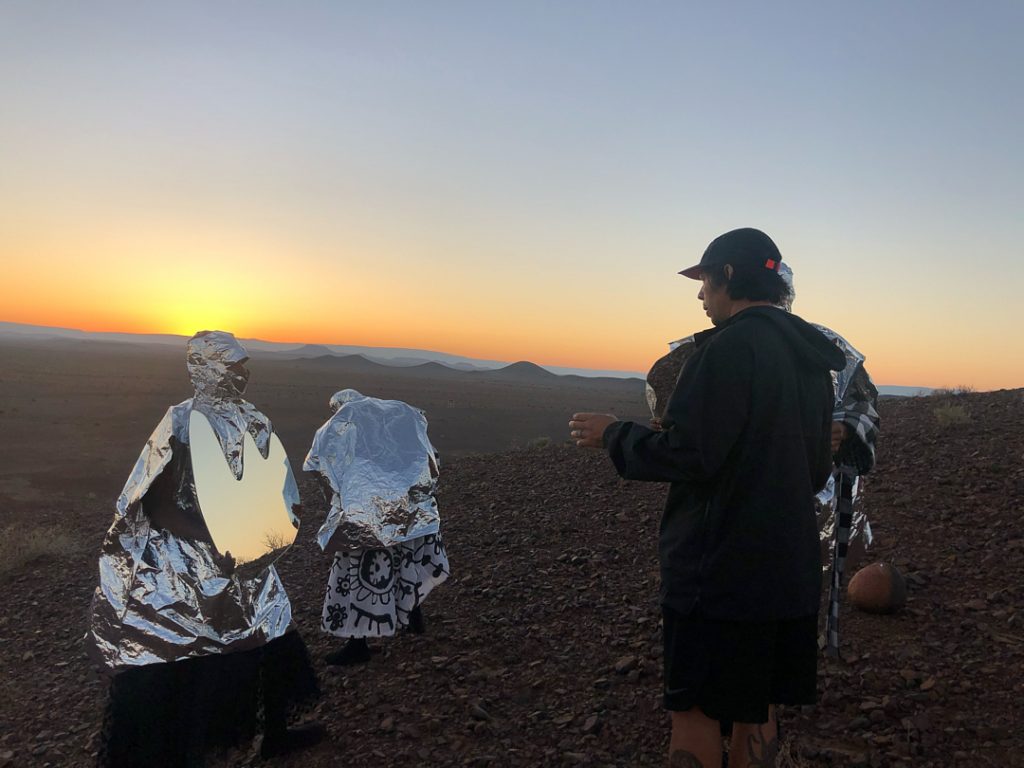 Creating through contrasts
Most of Louise and Oscar's films have been shot on location in South Africa, mainly in the Western province of it. Cape Town in particular is from a film and photography point of view a world-renowned destination. "We live with the most amazing locations and the most amazing light – we truly do live under the African sun – and that's something that we have been able to use to our benefit when we make films" Oscar explains. Next to the gorgeous natural light, Cape Town is marked by a large film industry with its knowledge and equipment, which Oscar and Louise get to enjoy.
While there is a lot of beauty around them, there is also a lot of contrast. During our dialogue we come to talk about "tension", yet we never name what exactly this tension is. It goes almost without saying that South Africa is not just a gorgeous filming location for dance films but carries dense histories and a complex every day. It is not a straightforward topic to discuss, as Louise says "it is hard to find the right words in the right context". The possibility for not using words in dance and dance films is one part of the formats' appeal for Louise: "I think that was my draw to choreography and expressing through movement, because there is that thing of not needing to put language to it, but at the same time so many subtleties can be expressed. When you merge that with film it has a similar kind of a powerful non-verbal way of deluding and guiding. So, it becomes like the perfect marriage to communicate, because you're not blocking off anybody who is not understanding the spoken language."
The context of South Africa leaks into the films, through the locations used, as well as through contrasts that are visible and felt in the films. Louise goes to say "If I look at my repertoire of work, the theme that is always there is tension. Even though I don't think my work necessarily visually looks like a work from specifically South Africa, or it's not maybe definable as such visually, I know that it's very much inspired by the place that I am living in and from. One of the big things that come from our day-to-day life is this tension. There's a constant tension that all of us experience in everyday life but also in how this city is constructed. There's tension between a group of people and another group of people, there's tension in just how we move around and interact in the space and in the geography of the place. So, it definitely becomes part of the work, I think it's unavoidable. What is around us is what we consume, deconstruct, and then put again in our work."
Oscar continues by stating bluntly that "it's not an easy space, it's a violent space." He elaborates furhter: "I don't want to show a typical South African scene, because we can't be defined by just that. We basically do our work to the highest level that we can, focusing on the art form. I know this sound vague, but we are sort of trying to elevate the work that we are doing past the idea it comes from this space. Louise and I know it comes from here, Lacuna for example was filmed in a contingent space, but you will never know it if you don't know the space. It's not important for us to put that in the description." An unnamed "locationless" or a new fiction, that however is full of nuances and carries emotion, is also part of Oscar's film Not from Here: "The idea was to speak about what most younger and up-and-coming dancers face: Where do they belong? How do they belong? Should they belong? And when they belong, where are they belonging? And that's why we took them to this landscape, where there was nothing to be recognised." The film is made somewhere in South Africa – a sort of "nowhere" as a location.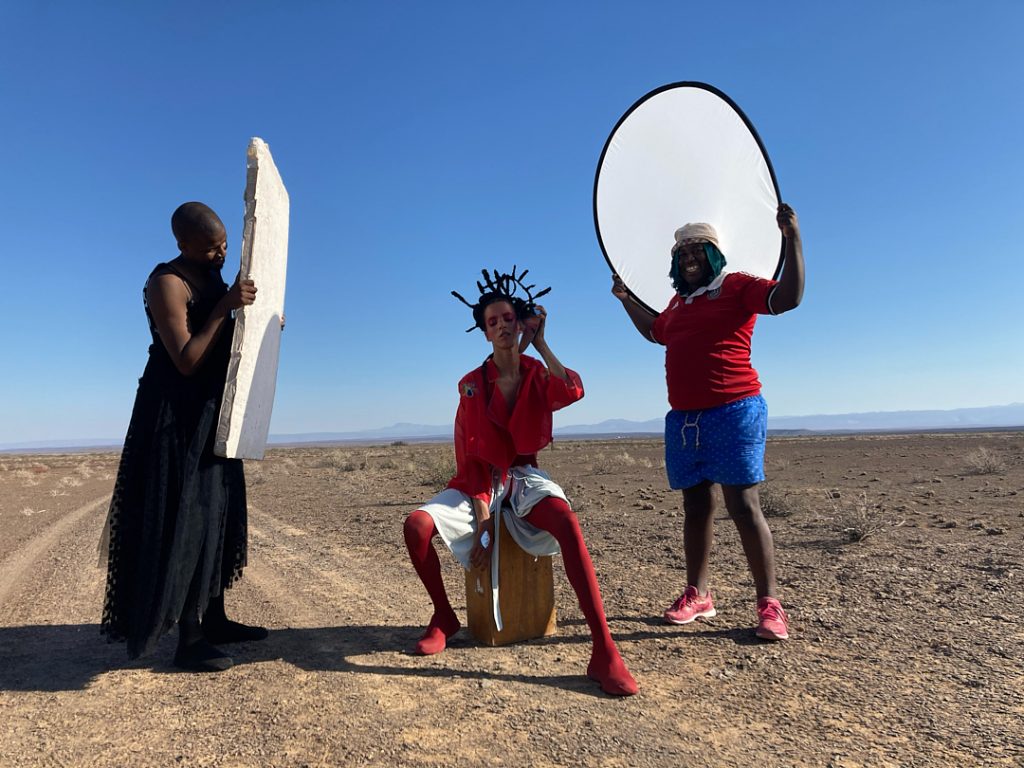 Go for it
With their years, many productions, and complex contexts worth of experience, what advice might the duo have for making dance films? Oscar tells me not to worry too much about the latest cameras or the different ways to light up the set. He encourages to just go ahead and start making films. Louise agrees, saying: "it is a medium that requires doing and not just thinking". An age-long wisdom that one learns by doing appears to apply here as well. As one then goes about making, one also creates an archive of material on the way. Oscar philosophises that in the end "only through making the work you will have the luxury of then looking back at it."
***
Louise Coetzer

*South African choreographer, interdisciplinary artist and dance filmmaker, specialised in movement composition
*grew up with MTV and music videos
*Started collaborating with friends from film school in 2002-2003
*Co-founder and artistic director of Darkroom Contemporary, an internationally recognised, award-winning dance company in Cape Town, now in its 13th year
*www.louisecoetzer.com
*https://www.darkroomcontemporary.com/
Oscar O'Ryan

*South African self-taught photographer and visual artist
*Co-founder and artistic director of Darkroom Contemporary, an internationally recognised, award-winning dance company in Cape Town, now in its 13th year
*https://www.oscaroryan.art/
*https://www.darkroomcontemporary.com/