"5, 4, 3, 2, 1" – Yoshiko Chuma
POOL dives deeper
Japanese filmmaker Yoshiko Chuma has been a special guest at POOL since year 2016. Her films, such as August 27, 1979 – The Girl Can't Help It , Champing at the Bit, Commercial Eruption, Splish Splash, and Pikkadon (all made between 1979-83) have been digitised and presented as part of the POOL SHINE – NEW YORK TRACES Programme. This year the festival presented her work SCHOOL OF HARD KNOCKS, and Five Car Pile-Up at Zionskirche.
18.10.2023
Article by Silja Tuovinen including stories and memories from Mireille Solomon, Meri-Tuuli Risberg, Sami Leutola, Muhamad Alfi Majid & Mulyani
Images by Muhamad Alfi Majid

***
We are 18 people sitting in a circle on chairs. It is a Saturday morning at Yoshiko Chuma's Shockwave Delay workshop. Our task is to introduce ourselves, but each time edit our story differently. Yoshiko stands in front of each one, "5, 4, 3, 2, 1, GO" and it is time to give an introduction. Shortly prior to this we have been running around the studio changing chairs, continuously faster and faster. In the beginning, the workshop might feel confusing to anyone who came for a standardised filmmaking workshop, but as the workshop ends it all lands, makes much more than sense, and it is all deeply connected to filmmaking. I learn for myself, that at the core of filmmaking is activity and taking action: "Go for it" and "just do it – don't perform it" are statements that are heard many times. Filmmaking shows itself for me not far from improvisation, as paying attention, following the moment at hand, and "going for the Cookie", as Yoshiko says.
Below is a reportage through moments with Yoshiko Chuma, where she shared something of herself and her views on filmmaking, art and life. We start from the audience discussion after her film screenings, moving through the Shockwave Delay workshop, and into the spontaneous trip to the tower of Zionskirche in Berlin.
Audience discussion at Zionskirche
Friday 15th of September 2023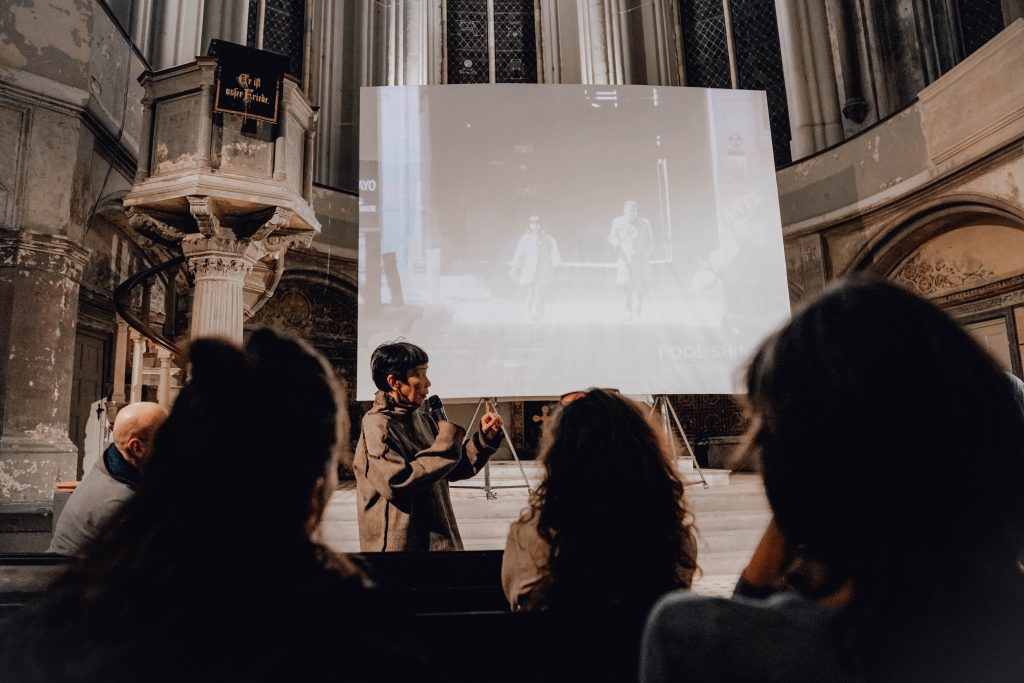 It is a warm Friday evening in the candle lit Zionskirche. Two of Yoshiko's films THE SCHOOL OF HARD KNOCKS and Five Car Pile-Up have been just screened next to films by Phill Niblock, one of them in collaboration with Arthur Russell, whose peculiar voice curved around us and echoed from the cupola of the church. As the audience discussion commences, it feels that many know of Yoshiko, but even more people know her. This becomes ever more apparent as Yoshiko talks to the audience in the same philosophical, unapologetic way she would to her friends. Having just watched two of her old films, Yoshiko tells us that she does not watch them with nostalgia. However, I for one am touched through her films and her speech by the perishability of life, art, and film, as well as its absolute nowness.
Both the moderator choreographer and long-time friend of Yoshiko's Peter Pleyer and an audience member have an interest in what we could learn from Yoshiko as artists living and working in the year 2023. Yoshiko contemplates on the complexity of the current times and remarks "so intense, you need to survive." As the question appears again, Yoshiko moves on to talk about finding one's cookie. What do you want to eat?
Yoshiko's advice is less about finding a way to fit a given norm, standard or style but to explore oneself from within, with as little judgment as possible. She says: "discover yourself. What makes you focused and crazy? What are you excellent in? Where is your curiosity?" Instead of searching for justifications Yoshiko encourages to "not think about art, do what you want." Her clearest message is to "find your cookie and eat it."
Yoshiko speaks of her love for cinema and her way of doing it. She says: "I love cinema – there's two dimensions and the time is moving." To my ear this sounds clear and affirming. In many moments I heard Yoshiko talk about inspiration, but from a perspective of not having any. Rather, the choice to make film appears for her as more pragmatic at first "I don't have inspiration – I had a camera, film, a friend, and I did it" she tells the audience. Camera could be approached playfully and through curiosity. "If I have a toy I play around" Yoshiko states. By taking away a certain seriousness from filmmaking, one could perhaps take away some pressure that might come with it.
Finnish dancer and choreographer Meri-Tuuli Risberg tells me over a message that she took from Yoshiko a lesson that one does not have to overwork ideas and projects. Yoshiko had encouraged her toward experimentation particularly in the beginning of the project. At this point one should research, experiment, and produce a lot of material. Yoshiko had told Meri-Tuuli that one should not apologise for one's own views and practices of making films. This is something that Finnish visual artist Sami Leutola remembers in particular, how Yoshiko had said multiple times "I never say sorry."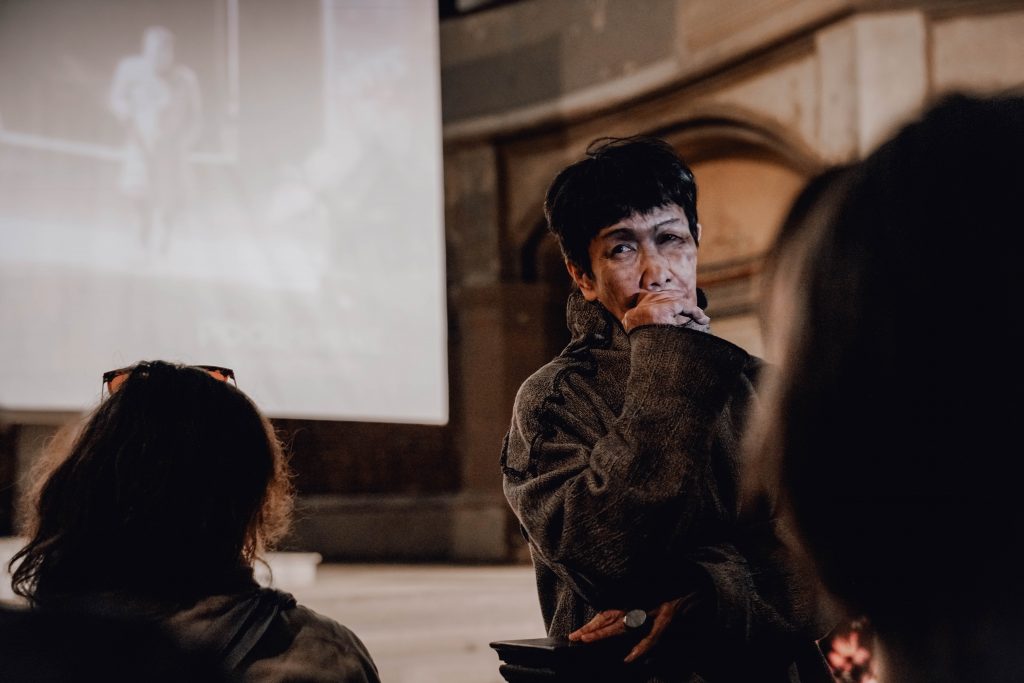 SHOCKWAVE DELAY Laboratory
Saturday 16th of September 2023
The room is full of curious faces, some of which were present the previous evening at Zionskirche with the special screening of Yoshiko's films. After introductions and running around changing chairs, we turn the lights off and turn on the torches on our phones. We play with shadows in the room. Yoshiko speaks of her fascination with film while she points at the big white screen: "image appears through light, hitting the screen. The light reflects from the screen, and the audience watch that." It is a kind of being with light, and its movement that she is reflecting on, to my ear.
As people move with their torches and bodies, the sensation of movement is accelerated as I observe the entirety of the room from higher up the audience seating. Yoshiko stops and clarifies "be clear – what is moving and what is not moving?" The accelerated images calm down and become more focused. To this Yoshiko replies "but don't become too serious."
During the laboratory I hear Yoshiko ponder on the action of filmmaking once again as she tells us to not give up and keep on strong. She highlights honesty about one's strength and weaknesses: "You find what you cannot do – you don't need to do what you cannot do! What are you excellent in?"
One person explains how finishing a process is a weakness of theirs, it is difficult to bring something to its end. "Everything is a process, it is never finished" according to Yoshiko – perhaps an advice easy to grasp and difficult to accept. Is it the fear of failing that stops a project from coming to an end? "Don't worry about failing. If you fail, you know more, and you run! There is more learning in that" Yoshiko encourages.To go toward making without fear, expectation, or worry is what Yoshiko is encouraging toward in my reading: "Do, or you don't – yes or no."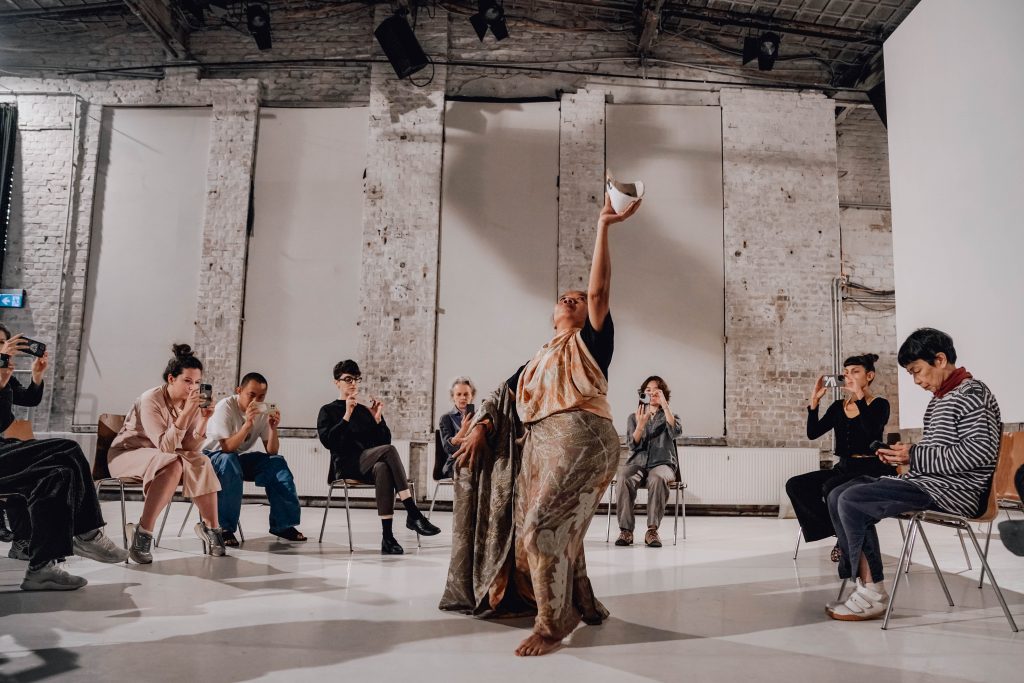 An architect with interest in its intersection with music, dance and movement, Mireille Solomon, shares with me memories from the workshop over email:
"I loved Yoshiko's direct and honest way of addressing us during the workshop. She asked us to speak louder during introducing ourselves, and we had to do that so many times. It was a great challenge for me to show myself and now I'm proud of myself for taking the risk. She gave us the task to move intuitively, without thinking about whether it looks good or bad. She said to focus on the chair you want to sit on and run. And as I was running to "my" chair, I bumped into a person and fell over the chair. At first, I was very embarrassed, but Yoshiko said she loved it because it showed my passion for achieving the goal.
As we sat with her at lunch on the last day, I was stroked by her interest in our stories and projects. She wanted to find out where we were going and advised us on what path to take. She said to me: "You have a vision, go for it!"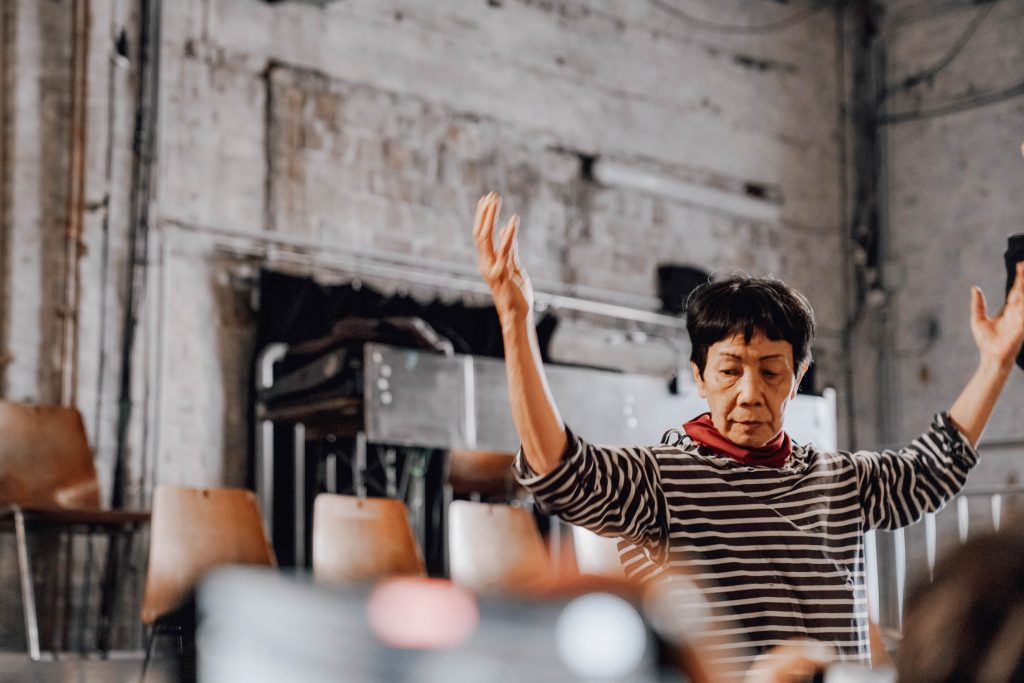 The tower of Zionskirche
Sunday 17th of September 2023
We are preparing to climb up the tower of Zionskirche, only open on Sunday's at 12 o'clock (a big recommendation). The church is built on the highest natural point of Berlin, 50 meters above sea level. This climbing up the tower is a spontaneous suggestion from Yoshiko the previous day after the workshop – 10 people show up. Jens from the church has made mushroom Pesto and Horst is serving us coffee and orange juice before the climb.
Without particular relevance to the mundane chitchat occurring at the lobby Yoshiko says "People don't think the same way, that is a human right – don't force it." I recall how the previous day Yoshiko had said something that relates to this statement. She had stated "human justice. I don't care about art." Soon after this moment, we climb up the tower through a narrow stone stairway.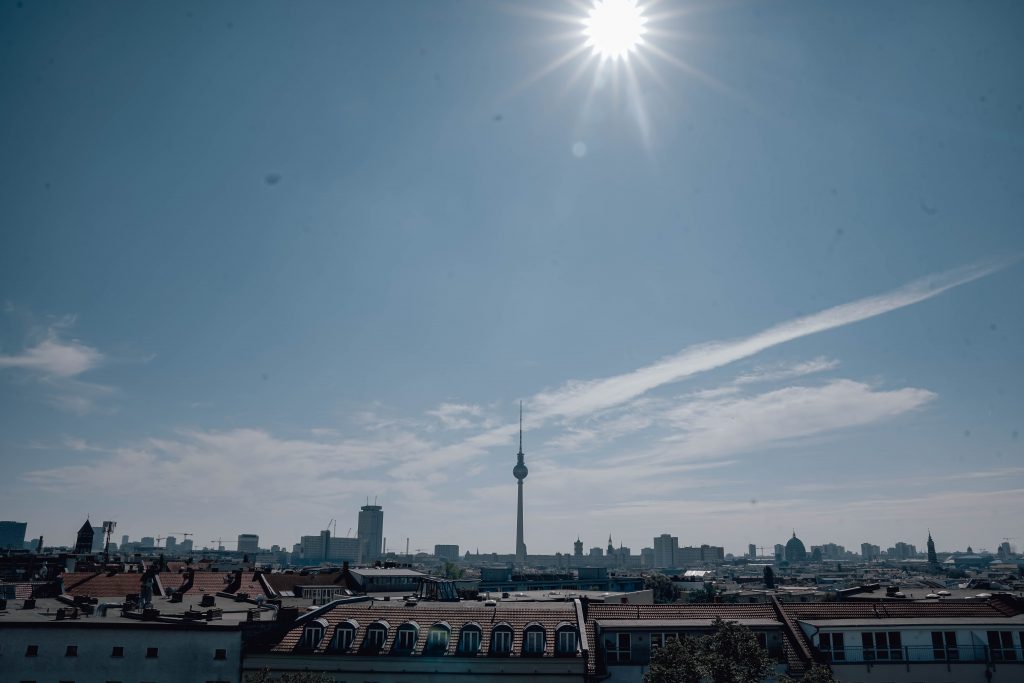 Up the tower the view is beautiful and vast. Everyone has their cameras up, taking photos both of the view and the person next to them – this is an influence Yoshiko easily has on everyone. The camera is a tool made for taking pictures and videos, you have one at hand – so do it.
Yoshiko spots a sunbeam on the wooden floor of the tower, and she starts filming it. She says "I don't do testing, no setting up, I work with whatever I have – it is very instant… nature is very incredible. In a studio you need hours to set up conditions that are same as in nature." To me this is a comment on the effortlessness of creating when one is faced with something truly interesting and available. Yoshiko ends the lesson by saying "when I am interested, it is like eating cookies".
Suddenly Yoshiko places her bag on the floor and tells Jens from the church that she will make a dance for him. The spontaneous flow of movement and steps lasts for a bit more than a minute. It includes claps, tiptoeing, turns, wide shoulders and minimal finger movements among others. The dance ends with a warm handshake between Yoshiko and Jens and applause from everyone up the tower at that moment. Jens takes us through the long history of Zionskirche, Thomas translates into English. The history is revealing for instance that many rebellious, punk and counterforce projects and happenings have occurred in the church, and with support from the church throughout complex history. Yoshiko stomps her foot down and raises her fist up, holding a smile "YES – now I understand why they wanted to show my films in this church!"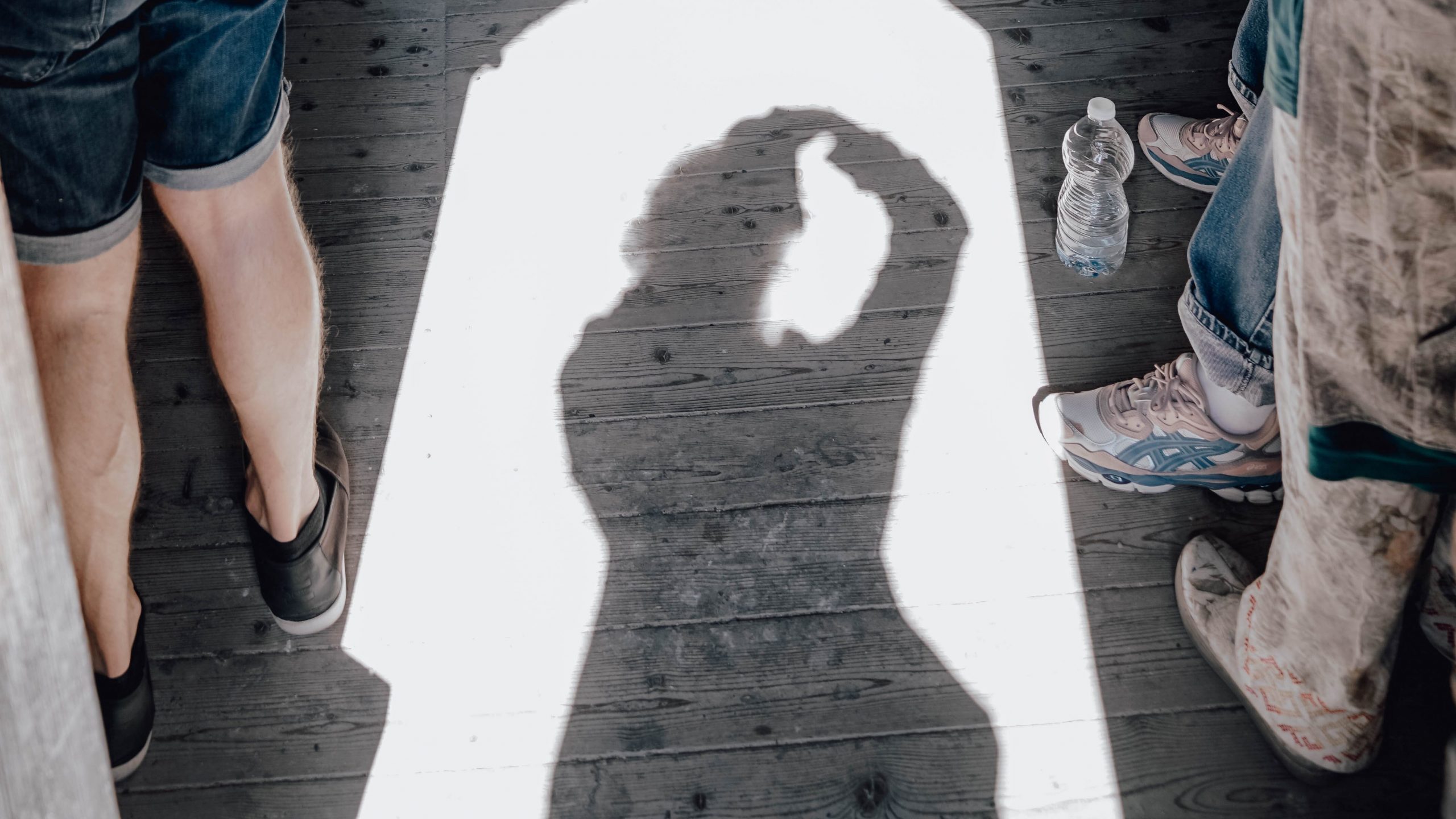 We climb down the tower and step onto the upper balcony of the church where the colourful glass windows are creating patterns as the ray of sun shines through them. Yoshiko goes to stand among the lights, I take a picture. She is touched by our visit to the church and the kindness and community among the random constellation of people who showed up. She whispers in my ear: "this is incredible – I will cry."
The atmosphere in the group is something quite unique, warm and uplifted. Bringing people together to share and empathise with others is a core element in how Yoshiko shares knowledge and makes the importance of making art tangible for those participating in her workshop. This is exemplified in the messages I received from the festivals two Indonesian artist guests Muhamad and Mulyani.
Indonesian photographer and filmmaker Muhamad Alfi Majid comments on the experience of climbing up the tower with Yoshiko over email. "The visit to Zion Church was the pinnacle of the experience, offering breathtaking views of Berlin and insights into the church's history. This experience left a lasting memory as we bid farewell to friends at the Pool Movement Art Film Festival and Berlin." Indonesian dancer and choreographer Mulyani shares that for her the whole experience of being involved with film is something new for her. "I am grateful to receive such incredibly interesting and valuable lessons. Overall, I am very excited and eager to try applying them to create dance videos or performances. The knowledge gained is extremely useful, and I am very thankful for the opportunity to also introduce the Lengger mask to various countries as a dance model."
Human justice, and being interested in other cultures and contexts is more on the surface with Yoshiko than any uplifted view on art's importance itself. Art and filmmaking can offer lenses through which to observe what is around and urgent. But firstly, turning toward another person is more important than art – this is what I have learned from being around Yoshiko Chuma.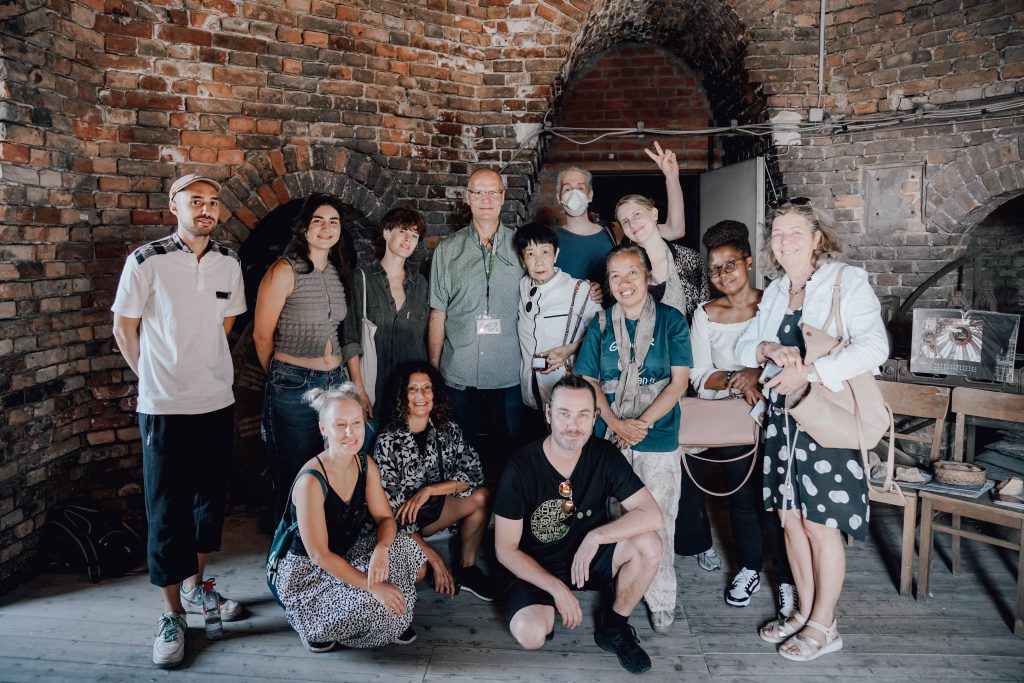 ***
Writer's note:
Above here is written out my journey through different moments where Yoshiko shared her views on filmmaking, art, and life during POOL 23. These are learnings that I have filtered from her, and translated, excluding direct quotes, into my own words. Language for Yoshiko is about power and ability, and she tends to not take translation and phrasing lightly. As she has underlined many times, for instance the fact that I write this article in English is not self-explanatory, and the monopoly of English language is something that we should all also take a critical look on.
YOSHIKO CHUMA (conceptual artist, choreographer/artistic director of The School of Hard Knocks) has been a firebrand in the post-modern dance scene of New York City since the 1980s. Chuma has produced more than 60 stage plays and site-specific performances. Between 1979 and 1982 she directed seven films on 16 mm, that were shown for the very first time in Europe at POOL Shine.